June 1, 2005 - European stargazers will now get a chance to buy the astrally optimized Canon EOS 20Da. While the camera will be available throughout Europe and Japan, it remains unclear if the EOS 20Da will make it to North America.
"The EOS 20Da digital SLR is a direct result of Canon addressing the specialized needs of the astrophotography market," said Mogens Jensen, Head of Canon Consumer Imaging Europe.
What makes the EOS 20Da more specific to astral photography than the 20D is the modification of the camera's infrared blocking filter. The IR filter reduces reddish tones in the standard EOS 20D.
Modification of the filter on the 20Da allows more red hues through, allowing for better photography of hydrogen nebulae which tend to have a reddish tint. The resulting images have higher contrast and yield sharper images that would normally be diffused.
Another difference between the 20D and the 20Da is the live preview function. According to a Canon press release, "While traditional digital SLRs lack a live preview on the LCD monitor due to the reflex mirror and shutter, the EOS 20Da digital SLR resolves this issue by locking up the mirror and opening the shutter to display a magnified live view of the subject on the 1.8" LCD monitor." Canon notes the live preview is designed for night photography, not bright light conditions.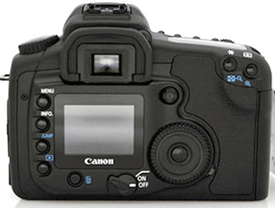 "As an affordable digital alternative to their familiar film bodies, the EOS 20D offered semi-professional and serious amateur photographers digital photographic freedom. Now with the EOS 20Da, we also offer astronomy enthusiasts a new photographic freedom, by providing an easier and more cost effective way to photograph the heavens," said Jensen.
The 20Da is like the 20D in all other facets, from its 8.2 megapixel resolution to weight and overall size.