Cameras
flickrvision Launches with Instant Photo Mapping
Read about a new website called flickrvision that maps Flickr photos in real time.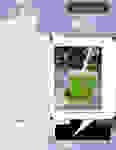 May 17, 2007 - Twitter, Inc. this week launched a new real-time photo mapping website called flickrvision. Currently in beta form, flickrvision displays thumbnail previews of photos as users upload them to the photo-sharing website Flickr. 
The thumbnails, which are displayed with the photographer's name, location, and how long ago the photo was uploaded (typically ranging from 'one second ago' to 'one minute ago'), are virtually pinned to the user's location on a world map. flickrvision viewers can click on the Flickr member's name to view more of their photos on the Flickr website. 
Photo geotagging is a recent photo sharing trend. Devices such as Sony's GPS Tracker record information about the latitude, longitude, and the time a photo was taken. Using this information, photos can later be plotted on a map.
flickrvision's Wednesday launch was met with "unmitigated success" and "amazing traffic volume," according to the official Twitter blog. The real-time geomapping software is the spin-off application of Twittervision, developed by David Troy.