Cameras
Flying Remote Camera Granted Patent
Read about a mini helicopter camera that can rotate 360 degrees for wide panoramic landscape photography.
July 2, 2007 – SkyPan International, an aerial imaging provider, was recently awarded a U.S. Patent for its remote-controlled helicopter camera technology. The mini helicopter, called the Remote Piloted Vehicle (RPV), can take 360-degree panoramic images up to 400 feet in the air and is targeted to real estate developers.
SkyPan creates wide landscape photography for planners, developers, and realtors for sales or community presentations, allowing their clients to see the view from a building before it's been built. Headquartered in Chicago, SkyPan has seen most major U.S. cities to give bird's-eye-view in photographs.
"It's the value of the visual," explained SkyPan International President Mark Segal in an interview with DigitalCameraInfo.com.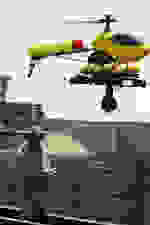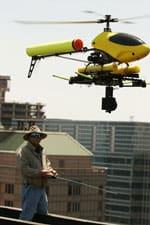 The helicopter, or RPV, is a remote-controlled platform with a custom film-based camera attached to it. The camera uses a moving lens and rolling film to shoot 360 degrees. It uses 2x8-inch negatives. The camera performs 8 full panoramic rotations, leaving a total of 64 inches of film roll. The camera then immediately scans and converts the drum of film into a 5MB digital file, so that no panoramic stitching is required afterwards. Although the company was established in 1988, the SkyPan RPV was only developed in the last five years as a response to new post-9/11 FAA regulations. "Because of 9/11, there is no longer allowance for helicopters," said Segal. After September 11th, the FAA (Federal Aviation Administration) limited full-sized helicopter flight to 1000 feet above buildings, leaving real estate developers without a way to get bird's-eye-view images. Other options, including cranes, blimps, and full-size helicopters are inefficient, costly, or unsafe. "It's safer than a balloon," said Segal. "There is more control in wind. It's very quick." Enter SkyPan. A fully loaded RPV helicopter weighs about 30 pounds and takes only 2 minutes from the moment of take-off to landing, significantly cutting down on the set-up time associated with cranes or balloons, according to Segal. "We can take off immediately, and read out footage above ground level," he said. In addition, the helicopter uses electricity rather than gas. Though price varies depending on location, SkyPan's services average $30,000.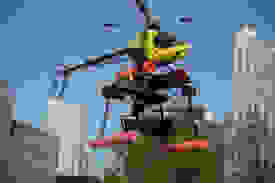 The RPV helicopter does have some limits. The FAA restricts SkyPan to altitudes of under 400 feet. The helicopter is also restricted to private property only.
A patent-protected pivoting gyro platform stabilizes the equipment. It spins two full rotations per second, while remaining perpendicular to the earth for sharpness and accuracy, according to Segal.
"[Image stabilization] was the difficult part to figure out," Segal said.
Theoretically, the patented technology could work with other types of platforms aside from mini-helicopters, with potential to operate on full-sized helicopters, balloons, or cranes.
"Producing a [building] is like making a movie. There's lots of planning," said Segal. "We move the project forward. That's what we're all about."