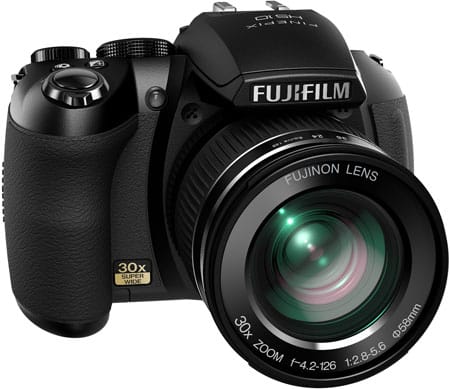 *The Fujifilm FinePix HS10

*
The FinePix F80EXR is a sleek, compact model that offers a 12 megapixel sensor in a case just 0.89 inches (22.8 mm) thick. It also offers a 10x optical zoom with a 27mm wide angle view. The image sensor is made by Fuji themselves, and uses their new EXR technology, which they claim allow the camera to capture higher resolution images, or to switch to high sensitivity or wide dynamic range modes. We tested an EXR sensor in the F200EXR, but did not find that these modes offered much improvement. It can also capture 720p high-def video, and also offers a new Pet Detection mode, which offers facial recognition for cats and dogs as well as people. Up to 10 pet and 8 human faces can be registered with the camera, and it will then tag the photos with the name of the subject.  The F80EXR will be available in April for about $300.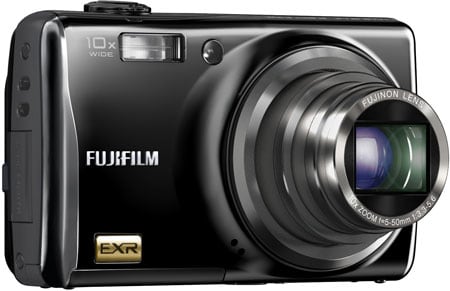 The Fujifilm FinePix F80EXR
The FinePix Z700EXR, which is controlled through a large 3.5-inch LCD touch screen on the back of the camera. It is also a very slim camera, with the body being just 0.66 inches (16.9mm) thick. It takes 12.2 megapixel images using an EXR sensor that is similar to the F80 described above. Although the camera is extremely thin, it still offers a 5x optical zoom, albeit one with a wide angle setting of 36mm, which provides a smaller angle of view than its more expensive cousins. It will cost about $280 when it is released in March.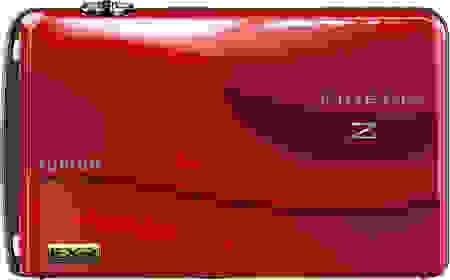 The Fujifilm FinePix Z700EXR
The FinePix XP10 is an addition to Fuji's line of tough cameras: it can shoot images at water depths of up to 10 feet and can survive a 3 foot drop. It is also dustproof, making it a good pick for a beach or camping trip. It is built around a 5x optical zoom lens and a 12 megapixel CCD sensor, with a 2.7-inch LCD screen on the back. It can also capture 720p high-def video with mono sound, but is still only 0.85 inches (22.7mm) thick. It will replace the Z33WP that we reviewed here when it is released this month, priced at about $200.
The Fujifilm FinePix XP10
The FinePix S1800 and S2550HD are both ultrazoom cameras, with both including 18x zoom lenses that start at a very respectable 28mm wide angle setting. Both also include large 3-inch LCD screens and electronic viewfinders and can capture 720p high def video, but the S2550HD also includes a mini HDMI port. The S1800 only offers an analog standard def video output, but Fuji is also offering an optional HD Player kit, which is a stand-alone player that can connect to a HDTV over a HDMI connection, and play back both images and video. The price of this HD Player kit has not yet been released, but the S1800 will cost around $230 and will be available this month. The S2550HD will cost about $250 and will be released in March.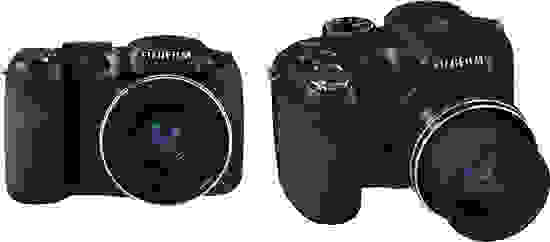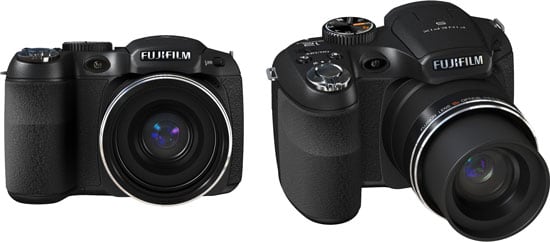 The Fujifilm FinePix S1800 (left) and the S2550HD (right)
The FinePix Z70 is aimed at the fashion-conscious photographer, with a compact, curvy design that is available in black, silver blue or berry red (shown below). The Z70 is just 0.71 inches (18.1mm) thick, and has a 5x zoom lens and 12 megapixel image sensor. It can also capture 720p high definition video, and includes modes for capturing and uploading videos to YouTube and Facebook through the included MyFinePix software.  It will be priced at around $150 and will go on sale this month.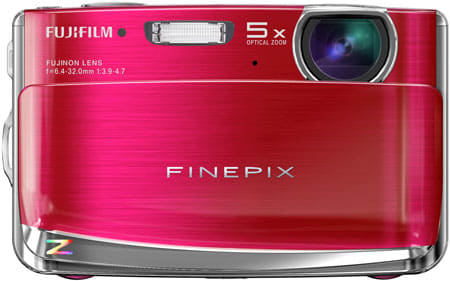 The Fujifilm FinePix Z70EXR
The J series includes 4 cameras: the $130 JV100, the $200 JZ300, the  $250 JZ500 and the $160 JX250.  All of these camera can capture 720p high def video, but their other features differ.
All of these models also offer a tracking AF system, which tries to keep a moving subject in focus by tracking it in the frame. The JZ500 is the only model to include facial recognition and pet detection, though. The JV100 and JX250 do include smile and blink detection, though.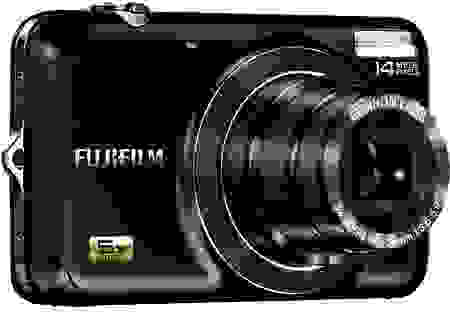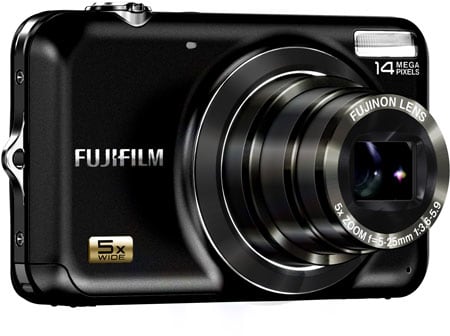 The Fujifilm FinePix JX250
Finally, we have the AV100 and AX200, which are both budget models, with the AV100 priced at around $100 and available in March, and the AX200 priced at around $110 and available this month. Both models capture 12 megapixel images and can capture 720p high def video, with the AV100 offering a 3x zoom lens and the AV200 offering a slightly longer 5x zoom lens. Both models are also powered by AA batteries.


*The Fujifilm FinePix AV100 (left) and AX200 (right)

*