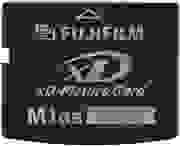 May 19, 2005 - To keep pace with increasing consumer demands for additional digital camera and cell phone memory, Fujifilm has responded by expanding the range of SecureDigital, CompactFlash and xD-Picture Cards available in their lineup.
'With the introduction of multimedia phones capable of storing music and pictures, as well as ringtones and video, use of digital media cards is greater than ever before. This is why we are now offering a specific range compatible with general consumer devices, alongside formats for professional photographers,' said Adrian Clarke, Director of Photo Products for Fujifilm. 
Fujifilm's new range of memory cards is anchored by new High Speed SecureDigital (SD) cards available in 60x and 133x speeds. The 60x speed comes in 256MB, 512MB, and 1GB sizes, according to a Fujifilm press release, while the 133x speed card will be available in 512MB and 1GB sizes. The 133x speed SD card is also designed to be more rugged and withstand harsher conditions.
Fujifilm also added a 40x CompactFlash card, available in 256MB to 4GB sizes, along with a 133x version in 1GB - 8GB sizes to boost their more traditional storage offerings. 
In addition to SD and CompactFlash cards, Fujifilm launched a new 1GB xD-Picture Card, as well as the new MMCplus line, which replaces Fujifilm's traditional MMC format. The new MMCplus cards, according to Fujifilm, will have increased speed over the older format and come in sizes from 128MB to 1GB. 
Fujifilm has more in store, also rolling out a Mini SecureDigital card which is primarily designed for use in mobile phones and is available in capacities up to 1GB. The Fujifilm MiniSD cards include an adaptor to make them compatible with all digital cameras, mobile phones, portable storage, and PDAs that take standard SD cards, according to Fujifilm. 
'When it comes to media cards, there is an inherent trust in the Fujifilm brand, which stems from our history in film. As a market leader, Fujifilm is committed to offering our customers a single source for virtually every media format on the market,' said Clarke.