Cameras
Fuji Introduces A800 and A610 with a new GUI
Fuji Introduces A800 and A610 with a new GUI, Graphic User Interface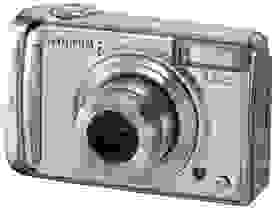 January 4, 2006 *– Along with the announcement of the F40fd*, Fujifilm launched two new entry-level models, the FinePix A800 and the A610 with a new Graphic User Interface. The 8.3-megapixel A800, as their highest resolution A-series camera, will retail for $179, while the 6.3-megapixel A610 will retail for $129. Both cameras are slated to hit retail shelves in March.
Tailored to first-time digital camera buyers, the A-series cameras carry a new icon-and-text-based Graphic User Interface, better known as a GUI, to aid the introductory user. 
"Every functionality that is present on the menu will be graphically driven, easily laid out." said Fuji Senior Product Training Manager Jim Calverley in an interview with DigitalCameraInfo.com.  "It will be possible for the user to find what they are looking for very easily without going deep into menus," he said.  Each menu function contains a simple color visual along with a brief description of that function.  For example, a user will find that the Forced Flash mode spells out "Flash is always on." 

Fuji 's first entry-level camera with an 8-megapixel Super CCD and a maximum sensitivity of ISO 800. It surpasses the 7.3-megapixel A700 with a maximum sensitivity of ISO 400. The A800 also comes with a 3x optical zoom lens, while adding a slightly larger 2.5-inch, 115,000 pixel LCD screen over its predecessor's 2.4-inch, 112,00 pixel monitor.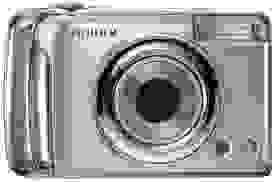 The FinePix A800 is Fujifilm's first A-series camera to come with a Mode Dial, dedicated to switching between still capture, movie recording (320 x 240 at 30 fps), and playback. The A800 has 2 shooting modes and 17 scene modes. 
The FinePix A610 is much like the A600, announced at CES last year. With a 6.3-megapixel count, 3x optical zoom lens, 2.4-inch LCD, and ISO 400 sensitivity, the A610 shares many of the same specs as its predecessor.  The A610, however, carries the new GUI design and totes a faster movie mode at 320 x 240 at 30 fps over the slow 10 fps rate of last year's model. The A610 also has 14 scene modes.
Both cameras take AA batteries and are compatible with xD Picture Cards and SD memory. 
The Fuji FinePix A800 and the A610 are the "evolution of cameras for our sensible consumer," said Calverley.