Cameras
Fuji's X-Series Grows Again With the Stylish XF1 Compact
Eye-catching and compact, the XF1 is the cheapest and perhaps most broadly appealing addition to Fuji's prestigious X-series thus far.
Despite kicking off just last March with the launch of the groundbreaking X100, Fuji's X-series has already grown to encompass five diverse cameras: the compact X10, the X-S1 superzoom, the large-sensor fixed-lens X100, the entry-level interchangeable lens X-E1, and the flagship X-Pro1. Today that number grows to six as Fuji unveils their new XF1, a fashion-forward camera that aims to pack the power of the X10 into a sleeker, more broadly appealing package.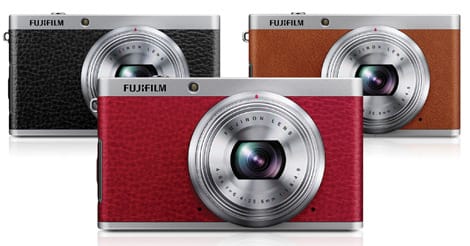 Crafted from aluminum and synthetic leather, with the X-series' trademark retro styling, there's no denying that the XF1 is a beautiful little thing. The camera comes with three different leather accent colors—black, red, and tan—and features a decidedly minimalist design—something that may irk as many as it pleases.
Inside, it's powered by the same 2/3-inch 12-megapixel EXR CMOS sensor found in the X10. The sensor is paired with a 6.4-25.6mm (25-100mm effective; 4x zoom) Fujinon lens that neatly retracts almost completely into the XF1's body. Like many other recent high-end compacts, the XF1 has a very bright maximum aperture on the wide end, at f/1.8 (tapering off to f/4.9 at full zoom). Combined with the ultra-bright lens, optical image stabilization and an ISO range of 100-12800 should make the XF1 a very good low-light performer (at least relative to its class). Finally, the lens focuses down to just 3 centimeters, allowing for some real macro-type shots.


The retracting lens design is actually a pretty interesting bit of technology. When the camera is put away (in "travel mode," as Fuji calls it), the lens is locked into the body, in its most compact postion. The user can then rotate the zoom ring to pop it out and into "standby mode," where battery usage is minimal but the camera can be turned on at a moment's notice. Turning the zoom ring further puts the XF1 in "shooting mode." The zoom ring is of course also used for its primary purpose—zooming.
Fuji is making a big deal of the XF1's speed. The camera's start-up time is quoted at just 0.55 seconds, it can acquire focus in as little as 0.16 seconds, and shot-to-shot time should never be more than 0.8 seconds. The sensor can also capture images at up to 10 frames per second, which is pretty good for a pocket cam.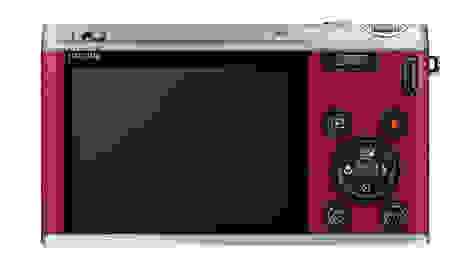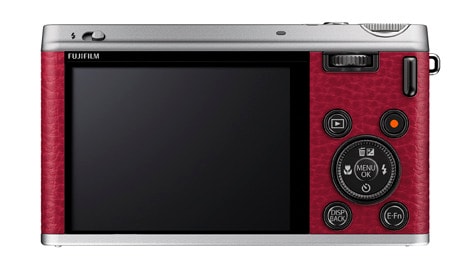 The minimalist body design means a scarcity of physical controls, but Fuji has an answer for that, too. In an attempt to appeal to enthusiast photographers, they've incorporated the "E-Fn" button, which can be assigned up to six functions depending on the user's tastes and shooting style. Another function button on the top plate can be customized for fast access to a specific setting.
The XF1 will be available in October, with a MSRP of $499.95.
---
FUJIFILM UNVEILS THE HEAD-TURNING XF1 DIGITAL CAMERA

New XF1 has a bold design, advanced technology and amazing F1.8 lens that brings excitement back to compact cameras
Valhalla, N.Y., September 17, 2012 – FUJIFILM North America Corporation today announced a new, distinctive premium digital camera that blends advanced technology with an unforgettable design to its flagship X-Series line, the FUJIFILM XF1. With its perfectly matched lens and sensor, careful attention to detail on appearance and design, and accessible technology, the XF1 extends the X-Series range to a much wider audience.
The FUJIFILM XF1 combines an amazingly fast and newly developed FUJINON F1.8 wide angle lens with 4x manual zoom with a large 2/3-inch 12 Megapixel EXR CMOS sensor that delivers extraordinary image quality, all in a remarkable design that is unlike any other camera.
The compact FUJIFILM XF1 will be available in three luxurious designs: a dimpled synthetic black leather, a smooth synthetic tan leather and an elegant synthetic red leather. Each new XF1 will begin shipping in October 2012.
"The FUJIFILM X-Series is known by photographers for their outstanding image quality, precision build and stellar performance," said Go Miyazaki, president and chief operating officer, FUJIFILM North America Corporation. "And the FUJIFILM XF1 lives up to that reputation, while adding a new level of portability and style with its unique retractable F1.8 manual zoom lens along with lightweight and durable aluminum body covered in synthetic leather for a bold, retro look."
First class lens for razor-sharp results

The FUJIFILM XF1 features a newly-developed, high-definition FUJINON 25mm wide angle F1.8 lens (25mm-100mm) with 4x manual zoom lens that consists of 7 glass lens elements in 6 groups, including 4 aspherical glass lens elements and 3 extra-low dispersion lens elements. The FUJINON lens as has new HT-EBC (High-Transmittance EBC) coating on all lens surfaces that dramatically reduces flare for crystal clear images, as well as optical image stabilization to eliminate camera shake without compromising resolution around the edges of the image.
The XF1 also incorporates Optical Image Stabilization, which shifts one group of four elements to minimize camera shake without compromising resolution around the edges of the image, a common problem with conventional stabilization systems. With this extraordinary lens, the XF1 can shoot in low light without boosting sensitivity, keeping noise to a minimum, by using high shutter speeds to prevent camera shake and stop subject motion – all without the need for flash.
The XF1 is also capable of Macro photography at ranges as close as 3 cm, and can capture images with a beautiful "Bokeh" depth of field effect (for crisp subjects set against out-of-focus backgrounds) by taking advantage of the XF1's fast lens and six diaphragm blades.
Fast AF in dark scenes with EXR processor

With its EXR CMOS sensor and EXR processor, the FUJIFILM XF1 offers fast Auto Focus no matter what you are shooting, even in dark settings. The speedy read time of the CMOS sensor, coupled with the high-speed EXR processor, accelerates all operations; quick response, start-up in just 0.55 seconds, focus acquisition in as little as 0.16 seconds, and a minimum shot-to-shot time of just 0.8 seconds. Additionally, the EXR processor offers high-speed processing for hassle-free HD movie recording and burst-mode photography.
Manual feel with all-new GUI

The FUJIFILM XF1 has an all new on-screen menu dial that allows users to gain full control of the camera's extensive manual shooting controls. The on-screen menu dial is fully customizable, and allows for quick setting adjustments and selections. The programmable E-Fn button can be assigned up to six functions, allowing for smooth manual control via the bright, 3.0-inch (460k dot premium clear) LCD monitor. The XF1 also features a programmable function button for fast one-click setting access.
Newly developed hardware design

The FUJIFILM XF1's new hardware design introduces a fresh way to carry, turn on and use the travel-ready digital camera. There are three modes for users to choose from when using the XF1:

• "Travel Mode" for a compact fit with the lens retracted and camera fully powered down
• "Standby Mode" with lens extended but in power saving mode for quick startups

• "Shooting Mode" for when you are actively photographing
Getting started is as easy as 1 – 2 – 3. From "Travel Mode," turn the zoom ring to either move into "Standby Mode, or bypass and move directly into "Shooting mode." And beyond just powering the camera, the manual zoom lens provides a very fast and precise 4x optical zoom range plus 2x intelligent digital zoom for a total of 8x zoom.
Fujifilm XF1 key features list:

• Pocketable, premium, camera available in 3 stunning colors (Black, Tan, Red)

• 12 MP 2/3" EXR-CMOS sensor with EXR-Auto

• Fast processing and response times

• Manual 4x FUJINON optical zoom (25-100mm equivalent to 35mm on a 35mm camera) and up to a total 8x zoom using the Intelligent Digital Zoom

• F1.8 (wide) - F4.9 (telephoto)

• Optical Image Stabilization

• Full manual controls

• A bright, sharp, 3.0-inch/460K dot premium clear LCD monitor

• ISO 100 – 12,800 (ISO 4000,5000, 6400 M Mode or Smaller, ISO 12,800 S Mode)

• Macro shooting to 3cm

• Motion Panorama 360 for seamless panoramic shots in a snap

• Artistic effects including 6 "Advanced filters" with 11 patterns and 5 "Film simulation modes" for additional creative expression, plus an individual shutter 3D shooting option to create a 3D effect from 2 x 2D shots

• In-camera RAW converter

• Full HD movie recording with the ability to zoom and to take photographs during movie recording. Now also with Automatic Scene Recognition for even better results when videoing

• A range of retro style coordinating cases will be available to complement the XF1

• Approximately 300 shots per battery charge
Pricing and Availability

The FUJIFILM XF1 will be available in October 2012 for $499.95 in black, tan and red.
NOTE: For complete camera specifications, please go to: http://www.fujifilm.com/products/digital_cameras/