Cameras
Fuji Unveils Fixed Lens Infrared IS-1
Fuji Unveils Infrared IS-1 Fixed Lens Camera, FinePix S3 Pro UVIR, IR, Hyper Utility Processing, Fuji Unveils Fixed Lens Infrared IS-1
**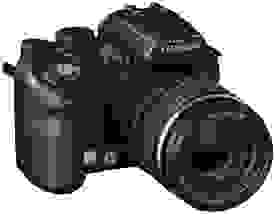 January 4, 2007 – Targeting the niche market of investigators and scientists, Fujifilm today announced the IS-1 digital camera that can capture images in both visible and infrared light.  As the follow-up camera to the FinePix S3 Pro UVIR DSLR, the Fuji IS-1 camera will retail for $899 when it becomes available in February. 

Fuji press release today. 
As the follow-up to the $1799-priced S3 Pro UVIR which was launched in response to the need for digital forensic photography, the new IS-1 is significantly less expensive than its big brother, available at half the price. 
"Law enforcement and scientific departments often contend with very restrictive budgets so a product that can enhance the efficiency and effectiveness of their operations, without draining too much resources, is quite appealing," said Fuji Marketing Manager or Electronic Imaging Division Darin Pepple in the release.
Although geared to similar markets, the two FinePix cameras are noticeably different.  First, the Fuji IS-1 has a fixed lens, unlike the FinePix S3 Pro UVIR DSLR.  Second, the new IS-1 can detect both IR light and visible light, but not UV light like its older counterpart. The IS-1 promises to 'capture a visible light image very close in quality to that of a standard digital camera,' stated the release. The IS-1 has a 9-megapixel Super CCD unlike the 6-megapixel (12.34-megapixel dual diode) S3 Pro UVIR.  The IS-1 also adds a swiveling 2-inch, 235,000 pixel LCD and uses continuous live preview. 
The fixed lens IS-1comes equipped with a built-in Fujinon 10.7x, 28-300mm optical zoom lens with an optional IR cut "hot mirror" lens filter that can record IR light at approximately 400-900nm, according to the release.  The IS-1 has a sensitivity of ISO 80 to 1600 for visible light, although ISO 200 or higher is recommended for IR recording.

picture stabilization, but does not include any form of optical image stabilization.
Enabled with the IR filter, the IS-1 has both manual and automatic controls, including Aperture Priority, Shutter Speed Priority, Natural Light, Portrait, Landscape, and Night settings.  The camera can record standard colors, chrome, and black and white with the "hot mirror" filter.  The IS-1 also comes with a movie mode that can record both 640 x 480 or 320 x 240 at 20fps. 

Fuji software, the camera comes with Hyper Utility Software HS-V2 version 3 that allows users to use CCD RAW format and view images side-by-side for comparison. 
Like the S3 Pro UVIR, the Fuji IS-1 is compatible with xD, CF, and MicroDrive memory and takes 4 AA batteries.
"The FinePix S3 Pro UVIR has been well-received in the forensic and scientific markets, and we anticipate an even better reception for the IS-1 digital camera in these same channels," said Pepple in the release.