Fuji has announced an updated version of their 3D camera: the FinePix REAL 3D W3 shoots 3D images and 720p video, which can be viewed on the built-in 3D LCD screen or on a 3D HDTV.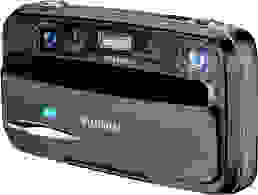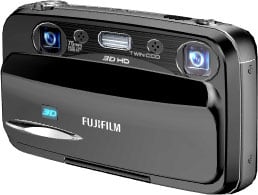 *

*
The Fujifilm FinePix REAL 3D W3
The W3 uses two lenses and two CCD sensors to shoot the 3D images and video, then displays them on an autostereoscopic 3.5-inch, 1150k pixel LCD screen. This works by using a parallax display system that uses small lenses built into the display itself to show a different image to each eye, creating the 3D effect. This does not require 3D glasses. The new camera can also work with a 3D HDTV, showing both 3D images and video, through the mini HDMI port. This 3D display requires the same 3D glasses required to view 3D movies, though.
The video that the camera captures is captured at a 720p resolution at 24 frames per second, and software to edit the 3D images and video for Windows users is also included. Standard 2D video at 640 by 480 pixel resolution (at 30fps) can also be captured.
The camera can also be used as a normal 2D camera, capturing 10 megapixel images: each lens has a 1/2.3-inch Super-CCD sensor. The dual-lens and sensor setup of the camera also allows for a number of interesting shooting features, such as shooting two images at different ISO settings or in different color modes simultaneously. More details are available from the product site.
The FinePix REAL 3D W3 will cost $499.99 and will be available in early September. Fuji also offers a 3D printing service called SeeHere that uses a special printing material to produce a 3D print. This costs $6.99 for a 5 by 7 inch print.