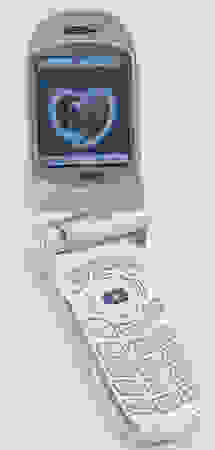 October 6, 2004 - Some say a picture is worth a thousand words – and it very well may be in this case. Cellular service providers are now fusing phones with cameras, making a profit when users send the photos on their airtime. At least five major cell phone companies offer phones with imaging capabilities and now manufacturers are looking for other ways to expand the market. Global sales of the camera phones are up 65 percent from the last quarter, from 5.2 million units to 8.6 million, according to market research firm Strategy Analytics. 80 percent of those sales happened in Asia, where 5 million people in Japan carry camera phones. The trend is slowly catching in North America, where there were only 2.3 percent of global sales. North American providers are hoping to change that. Today, Sprint and Fujifilm announced a new service that allows Sprint customers to send camera pictures from their online photo album to participating retailers to be printed. Ritz Camera, Sam's Club and Wolf Camera are participating in this service. Using their cell phones, Sprint customers can locate the closest retailer, send their photos and pick them up within a matter of hours. Most camera phones shoot pictures at 640 x 480 resolution, which is low compared to quality digital cameras, but good enough for standard 4 x 6-inch prints. "Fujifilm's service relationship with Sprint benefits consumers who want prints of their camera phone pictures and to our retail photofinishing customers who are connected directly to camera phone picture-takers via our 'Get the Picture Online Service,'" said John Prendergast, vice president of strategic business development in the photo imaging division of Fuji Photo Film U.S.A., Inc.

In July, Sprint introduced America's first one-megapixel camera phone. From August 2002 to September 2004, Sprint customers sent 270 million picture and video messages over its nationwide network. Now the cell phone service provider is hoping to cash in on the printing service.
"Current research indicates that 22 percent of 83 billion camera phone pictures taken in North America over the next four years will be printed," said Jill Aldort, a consultant for InfoTrends. "Printing mobile phone pictures is clearly an area of growth, and Sprint and Fujifilm are paving the way to allow those who love their camera-phone pictures to do more with them."