Fujifilm set its flagship to sail at CES today, unveiling the eagerly anticipated X-Pro1. The rangefinder-esque shooter is the newest model in Fujifilm's buzz-worthy X series, and the company's first crack at the burgeoning mirrorless compact system camera market.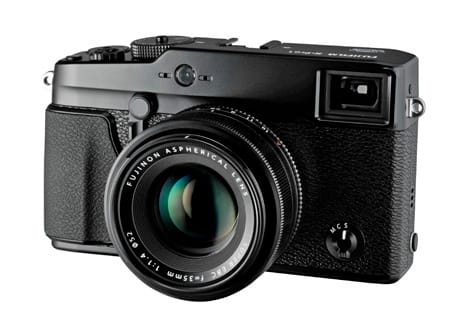 With the X-Pro1, Fujifilm has its sights set squarely on professional and semi-professional photographers. It's a bold move into territory that no other major manufacturers have yet explored.
Image quality is the chief goal here: the camera is built around a newly developed 16-megapixel APS-C CMOS sensor (the same size as most consumer-grade DSLRs and some mirrorless shooters) and a re-formulated EXR processor. Fujifilm conjured up a new lens mount—the X mount, no surprise—with three XF-Fujinon lenses set to launch alongside the camera. They're all fixed focal-length ("prime") glass with bright apertures, including an 18mm f/2.0 wide-angle, a 35mm f/1.4 standard, and a 60mm f/2.4 macro piece.
The X-Pro1 includes no low-pass optical filter, using a new 6x6 color filter array instead, cutting down on moire and false color reproduction.
The real head-turner on the spec sheet is the second-generation hybrid viewfinder. Like the finder on the X100, it can switch between optical and electronic viewfinder modes, or use an electronic overlay on the optical image. This time around, though, the optical finder automatically adapts to the focal length of whichever lens it uses—including a zoom lens that's slated for release later this year.
It wouldn't be an X-series camera without a stylish, retro metal chassis—magnesium alloy in this case—with a textured grip. The classy design is a big part of the X-Pro1's appeal, and will be no small part of its final price tag. The body is big by mirrorless standards, but still markedly smaller than any pro-range DSLR.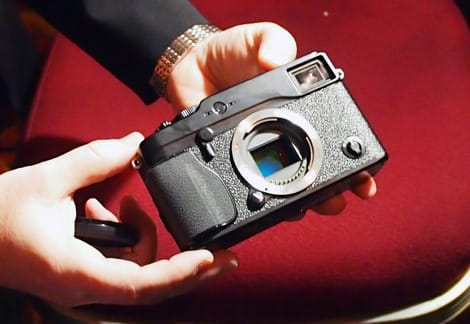 Of course, it's equipped with all the hands-on control that pro photographers look for, including RAW capture, a shutter control dial, an aperture control ring, an assignable function button, and a jog dial.
The premium approach has worked well for Fujifilm lately. Despite the cost and niche nature of the X100 and X10, Fujifilm has had a tough time keeping up with demand for both models. Like its siblings, the X-Pro1 is the only camera on the market like itself—a notch above the Sony NEX-7, and several thousand dollars cheaper than the Leica M9—so it's sure to be the object of many photographers' desires.
The price hasn't been confirmed, but Fujifilm said in a press conference that they expect the body to cost about $1,700, with lenses around $650 each—those estimates could change before the end of the month, when the official price will be announced. It will begin shipping at the end of February.
{:{PhotoGallery article.attachments}:}