Cameras
Fujifilm officially reveals X-S1 high-end superzoom
The X series takes a shot at the superzoom segment, hoping to combine the best of both worlds into the most advanced long-zoomer on the market.
The not-so-secret Fujifilm X-S1 high-end superzoom will make its official North American debut at the Consumer Electronics Show in Las Vegas next week. It's the latest model in Fuji's enthusiast-oriented X series, following last year's acclaimed X100 and X10 compacts.
Vital specs include a 12-megapixel, 2/3" EXR CMOS sensor (the same one that's in the X10, and much larger than the chips in any other superzooms right now); a 26x zoom lens (24-624mm equivalent) with a manual, twist-barrel control and optical stabilization; a 3-inch, 460,000-pixel tilting LCD and 1.4 million-pixel electronic viewfinder with an eye-level sensor; 7 full-res frames per second in burst mode; 1080p video; RAW and RAW+JPEG image capture; full manual control; an all-metal chassis; and a 500-shot lithium-ion battery.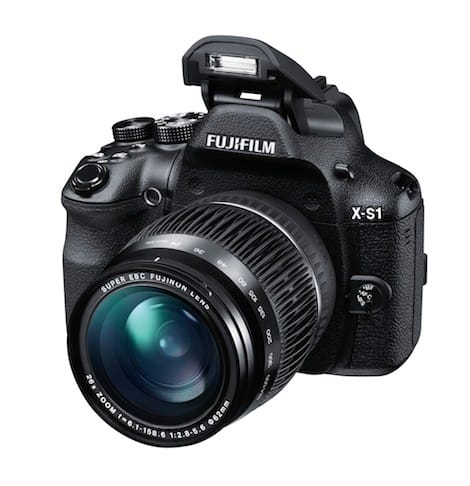 This announcement is old news to rumor-mongers; the X-S1 was first spotted in the wild last summer, and the official spec sheet was revealed in November. But it's only now in the run-up to CES that Fuji's stateside offices have acknowledged that this camera actually exists.
Enthusiast shooters have been clamoring for a truly advanced superzoom, something that combines the large sensor and hands-on control of an advanced compact with the reach and handling of a full-size superzoom. Fuji's own HS20EXR was the closest that any camera had come in recent years, but the X-S1 is a bigger step forward into uncharted territory.
The price tag gets a bump to match: At $799, it's in the wheelhouse of mid-range DSLRs and system cameras. That's hefty for a fixed-lens camera, but like its X-series siblings, the X-S1 sits in a niche corner of the marketplace, without any direct competitors. On paper, it's the most powerful superzoom thanks to its over-sized sensor and wealth of manual control. Now it's a matter of how well the image quality holds up, and if it can avoid most of the firmware-related wonkiness that hit the X100 and X10 before it.
The X-S1 should launch in the US at the end of January. Stay tuned for our first impressions review from CES next week.
For the full press release on the compact camera announcements made by Fujifilm today, please visit their press site.
{:{PhotoGallery article.attachments}:}