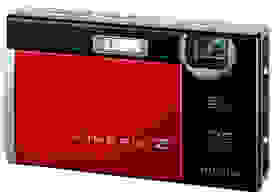 May 22, 2008 - Fujifilm unveiled another FinePix model today: the Z200fd. Its 19.8mm-thick body is sleek, compact, and stylish, yet packed with 10 megapixels and a 5x Fujinon optical zoom lens. In addition, the Z200fd features face detection of up to 10 faces, intelligent red-eye removal, IrSimple wireless technology, and Dual Image Stabilization to reduce blur in images. Pricing for the camera will be released closer to the point-and-shoot's shipping date in August.
Fujifilm adds two self-timer modes to the Z200fd: Couple Timer and Group Timer. Both work with the camera's face detection technology, preventing the camera from snapping a photo until all faces are entirely within the frame.
The Couple Timer detects two faces in the frame and releases the shutter button once the faces come together. Three settings can be set depending on the distance of the couple, whether they are standing side by side at a greater distance from the camera or closer to the camera, cheek-to-cheek.
The Group Timer detects up to four faces in a frame, and users can select the number of faces to detect, from one to four. The camera waits until it detects the total number of faces selected by the user, then snaps the photo.
The Z200fd features Fujifilm's Dual Image Stabilization, featuring a combination of CCD sensor-shifting and high ISO to reduce camera blur due to low lighting conditions or hand shake. Intelligent Flash automatically adjusts the flash for the lighting conditions, and Natural Light plus Flash takes two photos in succession - one with flash and one without - displaying both side-by-side for users to pick which one they prefer.
Eighteen Scene modes can be found on the Z200fd, including a Blog mode, for easy uploading to social networking sights, and an Auction mode for eBay. Users can wirelessly transmit photos to other IrSimple-enabled devices using the camera's built-in wireless technology.
The Z200fd features a 2.7-inch, 230,00-pixel LCD and ISO sensitivities of up to 1600 at full resolution. It's PictBridge compatible for direct printing and accepts xD-Picture cards and SD/SDHC memory in addition to its 52 MB of internal memory.
The shiny Z200fd comes in four colors: a black and red combination, pink, silver, and black. A unique diagonal sliding lens cover protects the camera's internal lens, and a 'Z' logo on the cover illuminates when the camera is powered on. It runs on a rechargeable lithium-ion battery.