Cameras
Fujifilm Updates Superzoom Lineup, Joins 1000mm Club with HS50EXR, SL1000, and S8300
Less is never more with Fujifilm, and so we have more new superzooms for 2013 than many companies' entire CES showcases.
Fujifilm just announced its 2013 FinePix superzoom lineup today at the Consumer Electronics Show. It's a comprehensive update with five new far-reaching cameras—including three new members of the 1000mm club.
Sitting atop the lineup is the HS50EXR (specs). It's built around a new 16-megapixel, 1/2-inch CMOS II EXR sensor with a 42x-zoom, twist-barrel lens, reaching from 24-1000mm at f/2.8-5.6. Fuji boasts that the autofocus is the fastest in the superzoom class, locking on in just 0.05 seconds. Burst shooting reaches 11 frames per second at full res for 5 frames.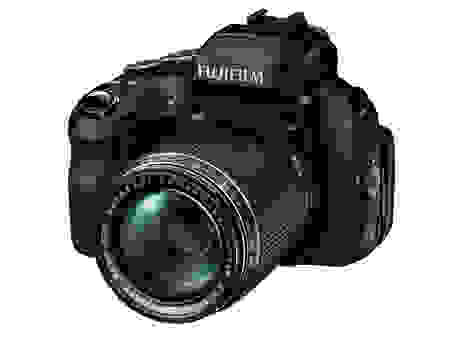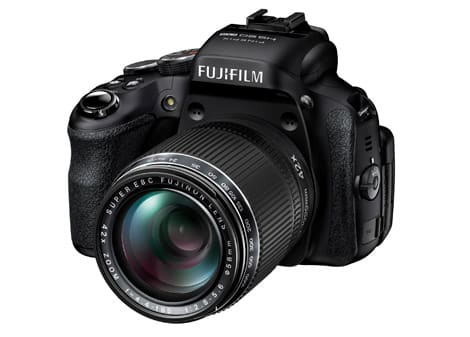 Other notable features include an articulating, 3-inch, 460,000-dot LCD and 920,000-dot electronic viewfinder with eye sensor, RAW image capture, 1080/60p HD video, full PASM manual control with plenty of direct-access keys, optical stabilization, macro focusing from 0.39 inches, a microphone input, hotshoe, at least eight digital filters, and a rechargeable lithium-ion battery with a solid 500-shot capacity.
Like Fujifilm's HS-series cameras of years past, the HS50EXR has all the right specs to compete with the heavy hitters in the category—it just needs to deliver better sharper, cleaner images than the HS30EXR did. It's set to hit shelves in March for $549.95.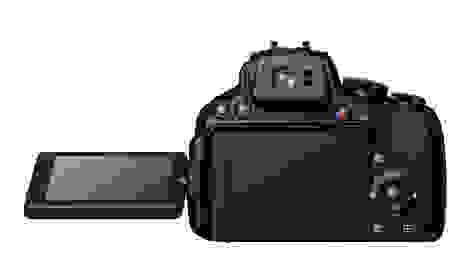 A slightly scaled back superzoom, the HS35EXR (specs) , will also be available in March for $399.95. It seems to be very similar to last year's HS30EXR; the only obvious change is an articulating LCD (instead of tilting) and a lower initial MSRP, and the press release makes no mention of optical stabilization.
Further confusing the matter, Fujifilm also announced the SL1000 (specs), a camera that could be the flagship superzoom in most companies' lineups. With a massive 24-1200mm, f/2.9-6.5 lens—that's 50x zoom—it is tied with the Canon SX50 HS as the longest-reaching digital camera ever.
The rest of the spec sheet is solid as well. It's built around a 1/2.3-inch 16-megapixel BSI CMOS sensor (smaller than the one in the HS series, and not arranged in the EXR pattern). It shoots 1080/60i video and 10fps continuous drive and supports RAW capture and PASM manual controls, sports a 920,000-dot tilting LCD and 920,000-dot EVF with eye sensor, has lens stabilization, offers two zoom controls (though it is not a twist-barrel lens like the HS series has), and shoots 350 images per charge. It'll also cost $399.95 and hit stores in March.
And dropping down into casual-camera territory, Fuji is offering two new S-series superzooms: the S8200 (specs) with a 40x zoom (24-960mm) and the S8300 (specs) with a 42x zoom (24-1008mm). These are also built around 16MP 1/2.3-inch BSI CMOS sensors and offer 10fps burst shooting and 1080/60i video, optical stabilization, super macro, and two zoom levers. They both run on 4xAA batteries, and their LCDs and EVFs are lower-res than other Fuji superzooms' screens are. They'll be available in March for $299.95 (S8200) and $309.95 (S8300).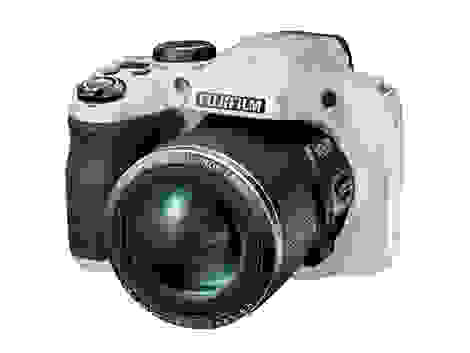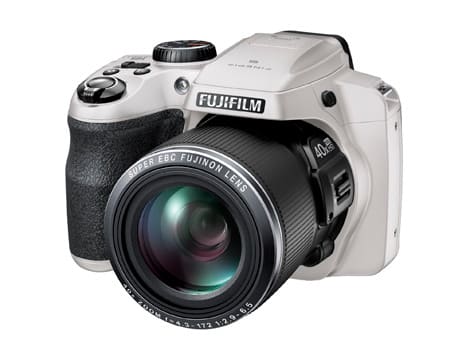 No less than six current Fujifilm superzooms will be available this spring, from the flagship X-S1 at $799 down through the S8200. One has to wonder if buyers will appreciate the wide selection of superzooms, or just find it confusing to sort through a half-dozen models with similar features.
And while we spotted it coming since the release of the Nikon P510 last year, it's still bemusing to see the industry adopt a 1000mm telephoto setting as the new normal for superzooms. We have no evidence that it has hurt image quality on any monster zoomers that we've tested so far, so hopefully Fujifilm can keep it up.
For more information on the new Fujifilm superzooms, head to their press center.
{:{PhotoGallery article.attachments}:}