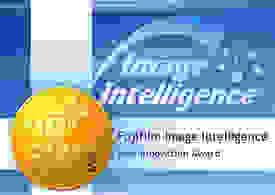 November 19, 2004 – Fujifilm's Image Intelligence System was awarded an Innovation Award from the Digital Imaging Websites Association today. The technology can detect and recognize faces and classify scenes, showing potential usage for amateurs and professionals alike.
The "Scene Classification" automatically recognizes certain image characteristics to ensure correct exposure and image processing. This could be used to enhance automatic settings on digital cameras. The "Face Detection" system corrects errors on the human face, including red-eye and skin tone problems. "Face Recognition" technology identifies human faces and can sort pictures accordingly.
The Fujifilm Image Intelligence System attempts to reproduce images exactly as they appear to the human eye. For example, the Scene Classification system can detect color temperatures and will adjust itself to eliminate a blue cast on a sunny day.
The Image Intelligence System was showed on an electronic photo album at Photokina. The album recognized human faces and sorted different people into their own folders. If an image of a person was selected, the album could display all the images of that person, despite the facial expression or gesture. The Face Recognition feature works by mapping a person's face and comparing the distances between certain points on the face. Fuji says this technology is accurate enough to distinguish between twins and siblings. This technology has potential in the medical and security industries, as well as the consumer digital imaging market.
For more elaborate description of Fuji's Face Recognition technology - click here: https://www.reviewed.com/cameras/content/Fujifilm-Displays-Face-Recognition-and-Detection-Ability-Available-in-new-Electronic-Photo-Book.htm