Cameras
Head to Head: Sony NEX-F3 Vs. Nikon J1
We put these two cameras head to head to see which is the better buy.
Credit:
The Sony NEX-F3 and Nikon J1 both occupy an enviable spot as compact, interchangeable lens cameras with appealing designs and price points that put them right in line for people looking to step up from point-and-shoot cameras.
Despite appealing to the same kinds of shooters, the differences between these two cameras are vast. The Nikon J1 (full review here) is one of the debut cameras (along with the Nikon V1) for the new "1" system for Nikon, a compact line of interchangeable lens cameras that use an image sensor that is bigger than a point-and-shoot, but a fair bit smaller than the APS-C size sensors found in full-size DSLRs.



The Sony NEX-F3 uses that same APS-C sensor, but with it come lenses that are equivalent in size to what you find on DSLRs, which are much larger than those found on systems like the Nikon "1" or Micro Four Thirds from Olympus and Panasonic. The NEX-F3 is also the third generation of this type of camera, so there's a larger library of lenses to choose from and subtle design tweaks benefiting from two years of user feedback.
In testing, we found the NEX-F3 (full review here) to be quite good, putting up numbers comparable to many mid-level DSLRs. The 16-megapixel image sensor offered great dynamic range and low light shooting capability, with its processor providing rapid 5.7 frames per second shot-to-shot speed.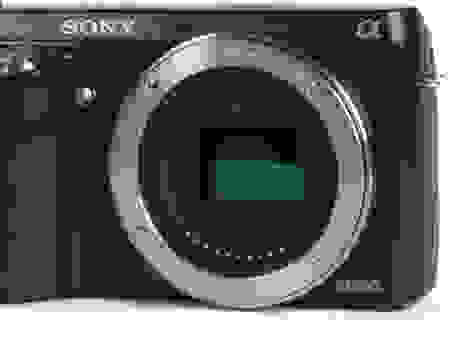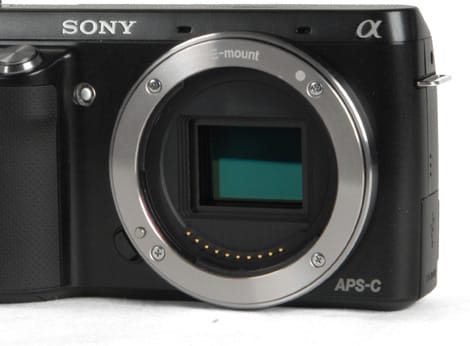 The Nikon J1's smaller sensor struggled in low light, as it gathers less light than the NEX-F3 does on each shot. The J1 also struggled with its automatic white balance settings (something that also plagued the V1), making some indoor shots look far too warm. We did like the menu system, but the overall control scheme didn't wow us from a usability standpoint while the lack of a grip made it difficult to hold.
That isn't to say the J1 doesn't have its advantages, though, as it shoots with amazing speed. The smaller sensor has an extremely fast information readout, allowing for up to 60 frames per second continuous shooting speed. In addition, the J1 also allows for 400fps and 1200fps high speed video capture, though at a reduced resolution. That's great for diagnosing the ugly slice in your golf game, and it's a feature that no other camera in this part of the market offers.
Still, while the J1 is an interesting concept and we're eagerly anticipating Nikon's 2012 follow-up, this is really no contest. The NEX-F3 outperforms the J1 in most performance categories, handles better, and is, we feel, easier to use overall. The J1, having dropped to $499 at many retailers is $100 cheaper with a kit lens, but if you really need the lower price point we'd encourage you to go for the NEX-F3's predecessor, the NEX-C3, while it's still on the market.
For a full performance breakdown of the Nikon J1, please read our in-depth review by going here. To read our review of the Sony NEX-F3, please click this link.