January 8, 2009 - Casio announced six new cameras at CES today, including two models that bring the company's signature high-speed-shooting technology down to consumer-friendly price points.
In 2008 Casio introduced two cameras featuring unheard-of shooting speeds, the 60-shots –per-second EX-F1, at $999, and the 40-shot-per-second EX-FH20, at $599. Now the company is adding two cameras that grab up to 30 six-megapixel photos per second, both priced under $400. The EX-FC100, at $399.99, includes a 5x optical zoom lens with sensor-shift image stabilization and a 2.7-inch LCD. While high-speed mode cuts the resolution to 6 megapixels, standard photos can be taken at up to 9.1 megapixels. The camera also has noteworthy video chops, including the ability to shoot super-slow-motion video at 1000 frames per second, and high-def video at 720p. In another time-altering innovation, the FC100 offers slow-motion view while shooting, displaying the live view in slow motion so the photographer can press the shutter at precisely the desired moment.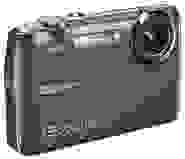 The $349.99 EX-FS10 offers many of the same features, including resolution, speed and video capabilities, but the zoom lens spec moves down to 3x and the LCD screen measures 2.5 inches, where the EX-FC100 provides a 2.7-inch screen. The FS10 is notably compact, at just 3.82 x 2.34 x 0.64 inches (97.1 x 58.5 x 22.6mm). Three other new models introduce a technology Casio calls "Dynamic Photo Function," which according to the company "allows the photographer to cut out the main subject of interest in an image… and then combine it with another image to form the background." This in-camera compositing can be used to combine two images, or several images taken in sequence, creating multiple impressions of a single moving subject against a still background.  Casio credits a processor upgrade to the Exilim 4.0 Engine for the ability to handle the calculations required to enable this feature, along with improved noise reduction and 30% lower energy consumption for extended battery life. The first three cameras to incorporate the Dynamic Photo Function are the EX-Z400, EX-Z270 and the EX-S12. The Z400 offers a 4x optical zoom starting at 28mm equivalent, a 12.1-megapixel sensor and a 3-inch LCD, with sensor-shift image stabilization and 720p movie mode, priced at $299.99. The EX-Z270 is a 10.1-megapixel model, also with 4x zoom and optical image stabilization, this time with a 2.7-inch screen, priced at $229.99. The new processor is also available in the $179.99 EX-S12, a 12-megapixel, 3x zoom model with 2.7-inch LCD and a depth of 0.58 inches (14.9mm).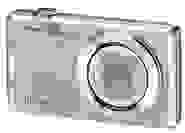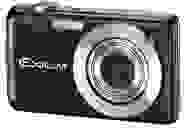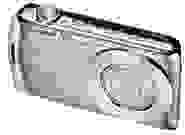 Rounding out Casio's CES introductions is the slender EX-S5, with a depth of 0.7 inches (17.8mm). The 10.1-megapixel S5 brings a 3x zoom lens and 2.7-inch screen for $249.99.