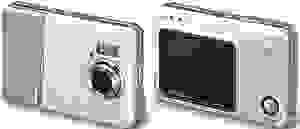 **
April 27, 2005 - Japanese consumers will have yet another slim design digital camera to choose from next month as Hitachi Japan has just announced its new 3.1 megapixel compact iMega HDC-302 SLIM. Younger brother to the Hitachi iMega HDC-301, the new 302 SLIM has a 3.1 megapixel CMOS sensor which Hitachi claims can interpolate an image up to a hefty 8.0 megapixels.
According to a Hitachi Japan press release, size wise, the HDC-302 SLIM is a touch bigger than a deck of cards at 3.2 x 0.86 x 2.2 inches in its "pearl white" casing and weighs in at scarcely three ounces (without the battery). Some of the other key features worth noting include a fixed lens, equivalent to 44mm in 35mm format, as well as a two-inch LCD monitor and an additional 4X digital zoom. The iMega HDC-302 SLIM also has 16 MB of built-in memory and accepts SD memory cards. In addition, Hitachi Japan reports the HDC-302 SLIM has a USB interface, 10-second self-timer, with shutters speeds ranging from 1/4 to 1/2000th of a second. The HDC-302 SLIM can record 75 seconds of MPEG video to its internal storage.
Starting on May 13, Hitachi Japan plans on shipping 10,000 units per month to Japanese customers. International release dates and pricing are not yet available.