*January 4, 2006, Las Vegas, NV - *Today at CES in Las Vegas, HP announced an update to their Photosmart M-series with the new M425, M525, and M527, all 3x optical zoom point-and-shoots that bring new and impressive meaning to the phrase "in-camera features."
The 5 megapixel M425 and 6 megapixel M525, both at 3.7 x 1.2 x 2.4 inches, are most notable for their in-camera organizational and postproduction features. They include a function called Photosmart Express, which allows users to select 34 different destinations such as printers, online photo albums, email addresses, or even Snapfish for their images. Emailed images are automatically thumbnailed to conserve space and, if applicable, contain a link to a page where the photo appears larger and the viewer can order prints. Images can also be transferred wirelessly, though this requires the additional purchase of a separate dock; the included HP Photosmart 6221 Digital Camera Dock does not offer this feature. Both cameras also have HP Design Gallery, a suite of in-camera editing effects that can be accessed to tweak images before sending them to their many destinations. Unfortunately, the tradeoff for these unique features on both the M425 and M525 seems to be a small 1.7-inch LCD display. The 6 megapixel M527 however offers all of the features listed above as well as a 2-inch LCD, which is not large but is still more desirable than the smaller alternative.
Though HP seems to be trying to do away with the necessity of postproduction software (at least for casual point-and-shooters) with all these inclusions, interestingly, the M425 and M525 also come with HP Photosmart Software which HP touts as "a complete, easy-to-use software solution." The M527 comes with HP Photosmart Premiere Software, which we can only assume is even more complete and even easier to use. Perhaps HP is just making sure to cover its bases.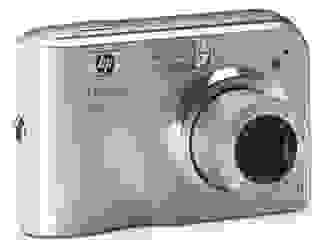 All three cameras have an unusual quirk in their control layout; they appear much like typical low-end compacts save for a unusual zoom toggle that is shaped like an "L" rotated 90 degrees clockwise to conform to the curve of the thumb indentation. While this ergonomic placement no doubt makes zooming easier on the thumb, putting it within the thumb indentation means users are probably bound to accidentally bump it and jump around the zoom range if the toggle is very responsive.
All three cameras also offer 16MB of internal memory and are SD card compatible. Oddly, the lowest-end camera, the M425, is the only one touted as having a Fast Shot mode for "quick, fleeting shots with minimal shutter lag." The M425 and M525 both weigh 4.9 ounces, while the slightly larger M527 weighs in at 5.4 ounces.
No prices have been announced, but all three M-series cameras are slated to become available in the US in April of 2006.