February 17, 2006 – Cedric Tay, an industrial designer, has captured a Red Dot award in the category of entertainment for Best Design Concept for the ic360, a cylindrical digital camera made specifically for panoramic photography. Mr. Tay was kind enough to answer some of our questions concerning his new invention.
The head of the peppermill-shaped 37mm diameter x 120mm camera rotates to capture a series of digital images in one 360 degree rotation to be stitched together later in image editing software. The ergonomic design allows users to hold the camera in one hand and use a built-in inclinometer, a level of sorts, to steady their shots. Because it rotates, the camera could also be mounted on a tripod for even more stability.
"I think it will be cool if a camera can be held in one hand like a light stick and able to take a 360 degree view without the need to aim and balance. The viewer will no longer have to focus on the LCD and can enjoy the real scenery," says Tay.
Tay, crediting everything from lights sticks to perfume bottles as his aesthetic inspiration, worked on the panoramic camera from July 2004 – April 2005 as his thesis project at the National University of Singapore.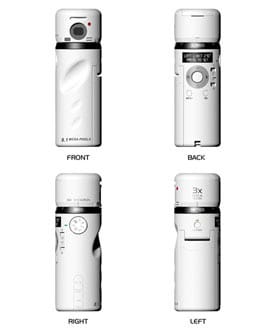 Tay also explained to us his component choices for the camera: "It uses a lens equivalent to those on slim cameras such as the Sony Cyber-shot DSC-T5 and works quite closely with the Minolta DiMAGE X series because of the cylindrical structure of the 360 camera. An internal optical zoom is also possible in such cases."
The camera also has a flip-out viewfinder, though the idea is that the viewer will concentrate outwardly on the scene and less on the LCD screen. According to Tay, "Power consumption is presumed to be higher than conventional cameras because of the built-in rotating mechanism, as well as the inclinometer. Further research and development on this is needed. . . . Battery-wise – it will take a lithium-ion battery because of the possibility of organic shapes."
While Cedric Tay has been developing the ic360 on his own thus far, he is currently shopping for an investor/manufacturer for further development and eventual production.
The Red Dot awards are administered by the Design Zentrum Nordrhein Westfalen, one of Europe's most prestigious design institutions.