November 10, 2004 – SanDisk yesterday announced enlarged additions and increased memory space to be included in future memory cards. The SanDisk 1-gigabyte industrial SD card and the 256-megabyte industrial TransFlash module both double their previous capacities. The increased memory will not only provide consumers with more space to fill pictures with; it will allow advances in automotive telematics, military and medical applications. These cards will be able to operate in a wider range of temperatures, from -40 to 185 degrees Fahrenheit.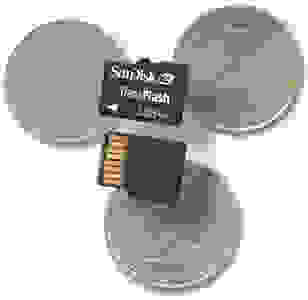 The wider range of temperature tolerance will fill the demand for the automotive telematics industry, which merges wireless communications, vehicle monitoring systems, location devices and other services. In vehicles that can heat and cool to extremes, it is imperative to have a temperature tolerant memory system.
"We live in a connected world, and we want to extend that to our vehicle," said Phil Magney, president and chief analyst of Telematics Research Group, Inc. The SanDisk industrial SD card has been used for applications in military aircraft and medical technology. The card was built with advanced 90 nanometer memory technology and has read and write speeds of up to 20 megabytes a second. The Transflash module was originally designed by SanDisk for mobile phones, but is now being used in other situations. It is the world's smallest semi-removable mass storage memory module at 11 x 15mm and 1mm thick.
The industrial cards occupy less space than other memory systems and provide simpler pin connections, making them marketable to many industries. Shipping will begin in January 2005.