February 27, 2006 - European consumers are getting their introduction to digital photography through camera phones, according to Mette Eriksen of InfoTrends, a marketing research firm that specializes in digital imaging.
Eriksen noted that in Europe, very few camera phone users actually take pictures with their phones. About half of the consumers who plan to buy digital cameras soon actually do take some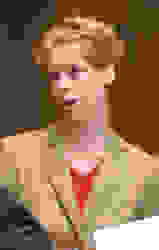 shots with their phones, suggesting that the phones, while not satisfactory as cameras, raise interest in digital photography.
In 2007, most digital cameras bought in Europe will either replace an older one that the consumer owned for a while, or be an additional camera.
InfoTrends research in Europe suggests that simpler cameras might sell well. One interviewee said camera manufacturers should, "make them easy to use and don't add features that most people don't use," Eriksen says.
Eriksen also says that vendors are driving the pixel count race. It's a simple means of distinguishing cameras, and consumers perceive that more is better, but "25 percent of UK owners don't know the pixel count of their cameras," Eriksen says. Other features are more appealing to European consumers.
Eriksen expects that European consumers will be drawn by 3-inch LCDs with wider viewing angles, longer zooms, image stabilization (in its varied forms) and smaller cameras.