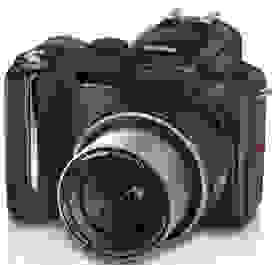 June 20, 2006 – Eastman Kodak Company announced today its newest 'super-zoom' model, the 7.1-megapixel Kodak EasyShare P712, to its Performance camera series. The P712 has a Schneider-Kreuznach Variogon 12x optical zoom lens that is much longer than the 5.8x zoom on the Kodak P880, which was released last August. Better still, the new P712 has an optical image stabilization system. The Kodak EasyShare P712 will retail for $499 when it is released worldwide in July.
At $499, the new P712 is the same price as the flagship of the Performance Series, the Kodak P880. The Kodak EasyShare P712 has less resolution than the P880's 8-megapixel sensor, but has a longer 12x optical zoom lens that is optically stabilized. The new digital camera fits between the P880 and P850, not necessarily in model numbering but in specifications. The P850 has 5.1 megapixels, a 12x lens, and sells for $299.
The Kodak EasyShare P712 has an optical image stabilization system that is relatively new to the series. It offers a two-stop advantage to reduce shake and motion blur in pictures and video. The stabilized 12x lens measures an equivalent 36-432mm.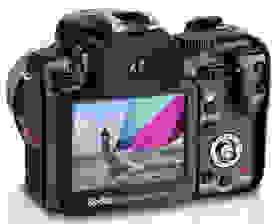 Geared towards repeat camera buyers, the EasyShare P712 offers 'better performance and more control than point-and-shoots,' according to today's Kodak press release. The new SLR-shaped digital camera supports RAW, TIFF, and JPEG images and shoots video clips at a rate of 30 frames    per second.
The P712 has full manual functionality as well as priority and scene modes. There is also a hot shoe that allows users to attach Kodak's $150 flash accessory for more powerful lighting. The Kodak EasyShare P712 has a 2.5-inch LCD screen and the manufacturer's trademark Share button for direct printing to PictBridge and ImageLink compatible systems.