Cameras
Kodak Launches V1003 and V803 with Personalized Maintain Settings
Kodak Launches V1003 and V803 with Personalized Maintain Settings
Las Vegas

, Nevada
, January 7, 2007 – Kodak today launched its newest V-series cameras, the EasyShare V1003 and the V803 with a new personalized Maintain Settings mode.  The 10-megapixel V1003 will retail for $249.95 when it becomes available in March, and the 8-megapixel V803 camera will retail for $199.95 starting in February.
The new EasyShare V1003 and V803 are examples of Kodak's theme this year - camera personalization, according to a Kodak representative in an interview with DigitalCameraInfo.com. "With the ability to store on-camera settings, a choice of eight colors and matching accessories, you will have a camera you can truly call your own," according to a Kodak press release today.
Adding to the line of new Kodak camera skins and neck and wrist straps launched recently, prospective buyers of either the V1003 or V803 will have a choice of 8 available colors: pink bliss, red shimmer, cosmic blue, mystic purple, golden dream, white glaze, silver essence, slate gray and java black.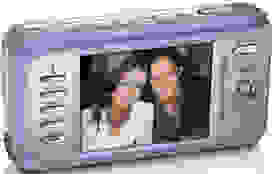 The V1003 and V803 will both also include a new feature called Maintain Settings. The on-camera Maintain feature allows users to remember frequently used options.  Users can create a Maintain Setting by checking their particular ISO, flash, white balance, and resolution as a default setting for easier access of the most used items.
Customers can further personalize the cameras by setting the Favorites option that allows users to store frequently viewed photos on the camera without using the internal memory.
The 10-megapixel V1003 and 8-megapixel V803 improve upon their predecessor, the 7-megapixel Dual Lens V705, in terms of resolution; however, both new models downgrade to a 3x optical zoom from the V705's 5x optical zoom.  Like the V705, the Kodak V1003 and V803 both include 2.5-inch LCD screens and come with Kodak's Perfect Touch technology, panorama stitch mode, and 22 scene modes.  The Kodak V1003 and V803 have a maximum sensitivity of ISO 1600 and video capabilities at 640 x 480 at 30 fps.  As always, the cameras come with Kodak's signature Share button for one-click organization.
"Kodak continues to delight consumers by providing new ways to express themselves," said Kodak Consumer Digital Imaging Group chief marketing officer Pierre Schaeffer in the release.