Kodak is beating everyone to the punch with an early CES announcement of three brand new point-and-shoot cameras for 2011. The midnight release unveils the EasyShare Touch, EasyShare Mini, and EasyShare Sport: three entry-level cameras with a focus on ease of use and social media sharing.
These three EasyShare cameras are accompanied by Kodak's announcement of two new ultracompact camcorders, the Kodak PlayFull and the second generation PlaySport.
The EasyShare Touch is the flagship of this lineup, with a three-inch touchscreen LCD and 14-megapixel sensor. The Touch is accompanied by the credit card-sized EasyShare Mini: a stylish nightlife cam that gives users a small self-portraiture mirror on the front of the camera. The final entry is the EasyShare Sport, which is a waterproof tough camera designed for an active outdoor lifestyle.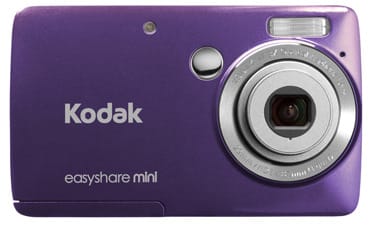 All three cameras have Kodak's Share button, which enables three-step sharing to post photos and videos to Facebook, Flickr, YouTube, Orkut, and Twitter.
The new EasyShare lineup will debut this spring in a variety of colors and price points. The Touch will be available in silver, black, red, orange, and purple for an MSRP of $149.95. You'll be able to grab the EasyShare Mini in white, blue, purple, red, or black for an MSRP of $99.95. The EasyShare Sport will come in white, gray, yellow, red, and blue for an MSRP of $79.95.
More details are available on the spec sheets for the Kodak Touch, Kodak Mini, and Kodak Sport or in the official press release below.
** ** *
ROCHESTER, N. Y., Jan. 4 – Eastman Kodak Company today announced several new additions to its EASYSHARE Digital Camera portfolio that let you easily capture and share life's moments wherever and whenever they happen – from your home to the club to the beach. As Kodak commemorates the sale of its 100 millionth digital camera in early 2011 – and the billions of KODAK MOMENTS shared around the world – these product introductions reinforce the company's commitment to ongoing innovation that helps people stay connected.
"Kodak has a digital camera to fit every lifestyle," said Phil Scott, Vice President of Marketing, Digital Capture and Devices, Kodak. "Whether you want to capture and relive your daughter's first birthday party, the concert with your friends, or a day at the beach, Kodak cameras are the perfect companions for life's moments. And with the Share Button – that only Kodak has – you can tag your pictures or videos directly on the camera for automatic upload to your favorite social networking sites, email and the KODAK PULSE Frame when you connect to your computer."
Featuring the company's exclusive Share Button, Kodak offers the world's only digital cameras with 3-step sharing1 making it easy for you to email your pictures to friends and the KODAK PULSE Digital Frame, and upload them to popular social networking sites including FACEBOOK, TWITTER, YOUTUBE, KODAK Gallery, FLICKR, and ORKUT, YANDEX and KAIXIN001 sites internationally. Kodak cameras also tag to the largest number of social networks and allow you to simultaneously share to multiple social networks and email using the Share Button.2
TWITTER and international sites YANDEX and KAIXIN001 are new sharing destinations Kodak has added to its 2011 cameras.
To read the full press release, please visit www.kodak.com
{:{PhotoGallery article.attachments}:}