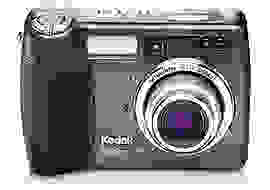 *May 5, 2005 *- Without advanced fanfare, Kodak added the new 6.1 megapixel EasyShare Z760 to its existing Z-line today. With a retail price of $329, the Z760 touts a 3x Schneider-Kreuznach Variogon optical zoom lens, 2.2 inch LCD, 16 scene and five color modes, as well as manual and custom controls in a 4 x 2.7 x 1.6-inch, 7.7 oz package. The Z760 also has 32 MB of internal memory and is expected to become available to consumers later this month.
In addition to the 3x optical zoom, the Z760 also has a 4x advanced digital zoom component to fill out spec sheets. The lens is a bit paltry for being included in Kodak's High Zoom series, but additional accessory lens options are available. The Z760's included 8-24mm Schneider-Kreuznach lens (39-117mm 35mm equivalent) has threads for a 37mm lens adaptor.
The amount of resolution alone places this model above the 5-megapixel Z740 in the Z series, but the new EasyShare Z760 comes short of its peer with a truncated 3x optical zoom lens. The Z740 offers a 10x optical zoom lens, but has a smaller 1.8-inch LCD screen. Take your pick.
The Z760's exposure control options consist of programmed AE, aperture priority, shutter priority, and manual exposure. According to Kodak, white balance can be controlled in any manual mode, but the selection is not stellar: auto, daylight, tungsten and fluorescent. The Kodak Z760 also boasts 16 scene modes, which include everything from the basics of portrait, sport, and landscape to party, flower, and text.
The Z760's available shutter speeds in automatic mode range from 1/8 of a second -1/1400th of a second and 64-1/1000th of a second in manual. Kodak's specs on the Z760 also note that the click to capture time is only 0.3 second and the burst mode can shoot 2 frames a second - for four consecutive shots.
Image sizes on the Z760 can be adjusted from 6.1 MP down to 5.4 MP, 4.0 MP, 3.1 MP and finally 1.7 MP. Available ISO settings range from 100-200 in auto mode, with the manual choices starting at 100 all the way up to 800. However, the ISO 800 rating is only available in the 1.7 MP image format.
This is the second time in as many days Kodak has released new digital offerings without a formal announcement. On Tuesday, the Rochester, N.Y. based company quietly unveiled the C310, C330 and C360. Like the C-series, the new Z760 can utilize the Kodak EasyShare Printer Dock Series 3.