*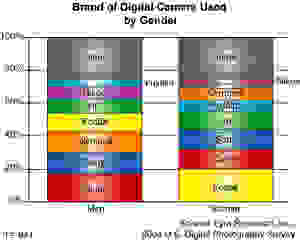 April 20, 2005 *– Kodak digital cameras are the ladies' choice, according to a new study published by market analyst firm Lyra Research. Of the surveyed women, 20.5 percent owned a Kodak digital camera while only 11.3 percent of men owned a Kodak. Lyra has its own theory on why females seem more attracted to the Kodak brand.
"The explanation is that women in general are less comfortable with technology and therefore are more attracted to trusted brands," says Charles LeCompte, president of Lyra and director of Lyra's Digital Photography Advisory Service. "And the biggest brand in photography is, of course, Kodak."
The survey also found that women prefer printing directly from the camera or docking station. Kodak's EasyShare line of products and accessories is marketed specifically for its ease of use and direct print function. According to Lyra's press release, "women own less equipment in general than men, do less with the equipment they own, and prefer products that are technologically the simplest."
Men preferred Canon digital cameras (does Maria Sharapova have something to do with this?), as 16.8 percent of male respondents owned a Canon. Kodak took the top spot when men's and women's preferences were combined; Canon and Sony were second and third, respectively. These results were announced yesterday as part of the Lyra Research 2004 U.S. Digital Photography Survey.