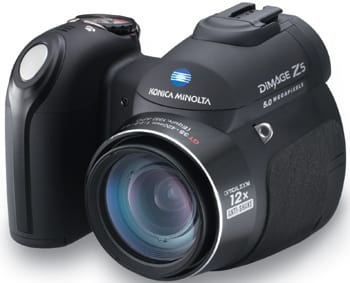 January 21, 2005 – Konica Minolta announced two new additions to its DiMAGE Z-series of digital cameras. The DiMAGE Z5 is this year's version of the Z3 and the Z20 is a descendant of the Z10. Both cameras have 5 effective megapixels, similar shooting options, and relatively large zoom lenses. However, the Z5 will have a larger price tag because of its image stabilization technology and more advanced movie mode.
The Konica Minolta DiMAGE Z5 will fit between the Z20 and the high-end Maxxum 7D, as it has features from both. The camera is highlighted by its 12x optical zoom lens that is equivalent to a 35-420mm lens in 35mm format, along with an additional 4x digital zoom. It has a 5.2 total and 5 effective megapixel 1/2.5-inch CCD. There is a Rapid AF with a Predictive Focus Control that estimates the direction and speed the subject is moving and focuses accordingly. This could be good for shooting at a track meet where the direction of runners is predetermined, but not for actions that require erratic movements. The Konica Minolta Z5 has manual and priority options, as well as automatic and five scene modes. That selection is versatile enough to satisfy beginning and intermediate photographers. That versatility is also seen in the white balance options: five presets, manual, and a fully automatic setting.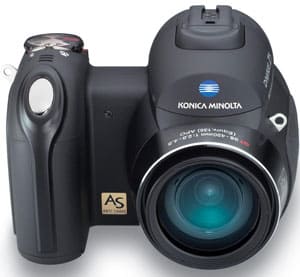 The camera borrows the highly coveted Anti-Shake system from the top-of-the-line Maxxum 7D. The image stabilization comes in handy with the Z5's movie mode, which shoots clips with 640 x 480 or 320 x 240 resolution at 30 or 15 frames per second with audio. The DiMAGE Z5 can also use its optical zoom while in movie mode, which is rare in digital cameras' movie modes. The camera weighs 12 ounces and measures 4.3 x 3.1 x 3.3 inches. The Konica Minolta Z5 upgrades from the Z3 with more megapixels and a 2-inch LCD screen rather than a 1.5-inch screen. A fast burst mode and hot shoe make this model unique.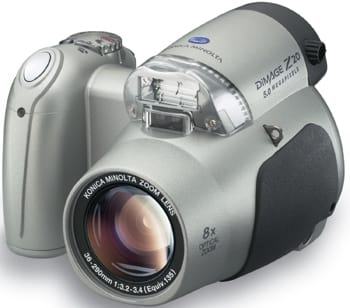 The Konica Minolta DiMAGE Z20 has an 8x optical zoom lens that is equivalent to 36-290mm in 35mm format. It also has the same 1/2.5-inch CCD imaging processor as the Z5. The camera is aimed at consumers who are purchasing their first digital camera or upgrading from old models. The Z20 has lots of desirable options for beginners. The camera starts up in a half a second and has several focus modes. The long lens has a decent macro shooting mode that can focus as close as 0.4 inches from the front of the lens. The Konica Minolta DiMAGE Z20 has the same flexibility as the Z5; they share the same shooting modes, white balance and control options, and focus settings. The movie mode captures clips at the same image sizes as the Z5 and can even zoom while shooting, but it does not have image stabilization or audio - a drawback for photographers who rely on this function.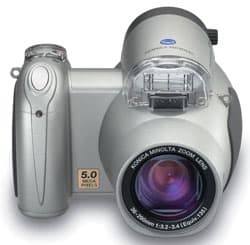 This model weighs less than the Z5 at 10.6 ounces, but is bulkier at 4.3 x 3.2 x 3.7 inches. The Z20 will require two hands to hold and a camera bag to transport it. The camera does come with a neck strap, which will make long shooting sessions more comfortable. The Konica Minolta DiMAGE Z20 upgrades from the Z10 with 14.5 MB of internal memory, two more megapixels, and a hot shoe for an external flash.
Both cameras have yet to be priced, but the cost of their predecessors' should provide a glimpse; the Z3 retailed for $549 and the Z10 went for $329. Availability has yet to be officially announced, although they are expected around late-March.
Our editors review and recommend products to help you buy the stuff you need. If you make a purchase by clicking one of our links, we may earn a small share of the revenue. Our picks and opinions are independent from any business incentives.