Cameras
Leica Presents Digilux 3 with Live Preview
Leica Presents Digilux 3 with Live Preview, DSLR, live view LCD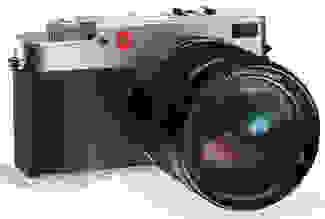 September 15, 2006 – Leica introduced a familiar face this morning with the announcement of the Leica Digilux 3. This 7.5-megapixel camera has virtually the same components, modes, and features as the Panasonic Lumix DMC-L1. The LiveMOS image sensor is paired with a Four Thirds standard bayonet lens.
The Leica Digilux 3 is "the first purely digital Leica mirror reflex system camera with exchangeable lenses," stated the company's press release. This digital camera hardly bears any resemblance to previous Digilux models; the Digilux 2 was announced at the end of 2003 and has only 4.9 effective megapixels.
The Digilux 3 has a completely different 7.5-megapixel LiveMOS image sensor and an updated image processor, but still comes in the retro body of other Digilux cameras. This particular body was designed by Achim Heine, who is a professor at an art institute in Berlin and designs everything from furniture to art installations. The design merges modern technology and analog elements. Some of those analog elements include dials and rings on the camera to manually set the aperture, ISO, zoom, and focus.
"The Leica Digilux 3 sets a new standard in the digital mirror reflex camera segment: traditional operating controls and highly modern technical equipment are united with classical values such as precision, outstanding picture quality and a clear formal language; offering in addition the creative freedom of a digital system camera," said Marius Eschweiler, product manager for digital compact cameras at Leica Camera, in today's press release.
The new Leica Digilux 3 is able to interchange lenses, but comes with a Leica D Vario-Elmarit 2.8-3.5/28-100 mm lens that offers "minimal distortion and vignetting even at the shortest focal lengths," stated the press release. The lens is built with 16 lenses and 3 aspherical elements in 12 groups. The lens is complemented by the optical image stabilization system.
And like so many other manufacturers this year, Leica is including a dust reduction system to keep particles from sneaking in the way of the image sensor. The ultrasonic wave filter keeps dust from the LiveMOS sensor, which provides a live preview to the 2.5-inch, 207k LCD screen. There is also a more traditional optical viewfinder available.
The Leica Digilux 3 is packaged with a 1 GB SD card and Adobe Photoshop Elements 4.0. This digital camera's components, modes, and features indicate a relationship with Panasonic, which announced the twin L1 in February of this year. At the time, Panasonic announced that it collaborated with Olympus to create the LiveMOS sensor and dust reduction system.