*April 3, 2006 – *Leica released a new compact digital camera, the Leica C-Lux 1, to begin its new line of compact models. The C-Lux looks quite similar to the Panasonic Lumix DMC-FX01. Both digital cameras have the same Leica 3.6x optical zoom lens that has a wide 28mm focal length and an optical image stabilization system. Both have 6 megapixels on a 1/2.5-inch CCD. The camera bodies could be twins as well. The placement of the components and control buttons are the same and the LCD screens both measure 2.5 inches. The Leica C-Lux 1 does have longer battery life and a bigger SD card. It will retail for $495 in May.
"With its ultra compact dimensions of only 2 x 4 inches, the Leica C-Lux 1 easily fits into any bag or pocket and is therefore the ideal companion for everyday use, leisure pursuits, travel or any other occasion," said Marius Eschweiler, compact camera product manager at Leica, in today's press release.
The Leica C-Lux 1 is less than in inch thick, like the FX01, and comes in black and silver colors. With its slim specs and 3.6x lens, it should be a contender in the more fashionable end of the digital camera market. The LCD screens on the two digital cameras are identical; they both include the unique Power LCD mode that offers a wider viewing angle when activated. The 2.5-inch monitors have 207,000 pixels and 100 percent field coverage.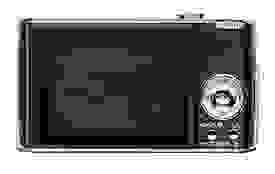 Like many other new camera releases this year, the Leica C-Lux 1 has an ISO 1600 setting to enhance photos in low light in the camera's High Sensitivity mode. The camera does not have manual settings, but has 16 scene modes instead – including two Baby modes that save the exact age of two children.
Like the Panasonic Lumix FX01, the C-Lux 1 has a 16:9 shooting mode optimized for displaying slide shows on widescreen televisions. The Leica model has two differences from the Panasonic version. Its battery lasts for 320 shots instead of 230 and the included SD card is much larger. Instead of the tiny 16MB card included with the FX01, the Leica C-Lux 1 comes with a 64MB SD card.