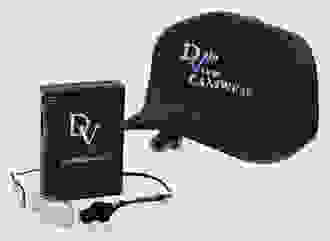 November 17, 2004 — Do you ever find yourself telling your friends a story, only to end it with, "You'd have to see it to believe it." Now they can see it with Deja View's Camwear 100, a nickel-sized video camera that clips to clothing or eyeglasses. In essence, the Camwear 100 is a hands-free camcorder that records everything you see 30 seconds after you see it. The digital device was announced in October and is available this month.
The after-the-fact recording allows the user to see the action, then press the record button on the attached hip pack so those see-it-to-believe-it moments are caught on tape. The camera records movie clips to a SD card. The Camwear 100 records 30 frames per second at 320 x 240 resolution and works best in well-lit situations. The device records audio as well, although the sound quality is comparable to a portable radio. Deja View hopes the camera can be used in recreational, military, government, law enforcement, medical research and other sectors.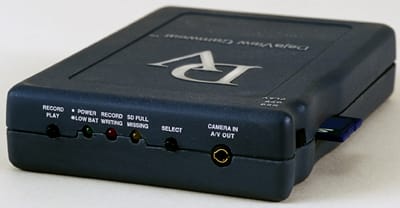 The Camwear 100 is a product of Deja View founder Sid Reich, a fan of the television replay system TiVo. According to the company website, Reich was inspired to create the Camwear 100 while golfing with friends. Reich watched as a squirrel leaped into their golf cart and tore open a bag of bagels, then pulled one out and ran up a tree with it. Apparently, Reich wished he'd had a camera on him at the moment.
The camera can support SD cards from 64MB to 1GB. The rechargeable battery lasts up to six hours. USB and AV cables allow the user to view footage on the television or computer and the software lets the users edit or burn it to CD or DVD. The Camwear 100 retails for $399.99.