Cameras
New Info on Samsung NX10 Hybrid
Samsung revealed that the hybrid NX10 will feature a 14.6-megapixel CMOS sensor, 3-inch OLED display plus electronic viewfinder, and record 720p video.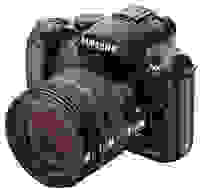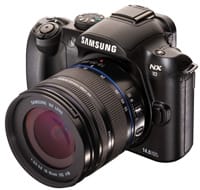 January 3, 2010 – Samsung has released additional details on its "hybrid" NX10 camera, first shown under glass at PMA in March, ramping up to a CES introduction this week. The NX10 represents a new camera format, with interchangeable lenses (and a new lens specification) and an APS-C sensor, but no SLR-style mirror box. Conceptually, the new camera closely resembles the Micro Four Thirds format created by Olympus and Panasonic, but with the same sensor size as a standard digital SLR.
We now know that the NX10 will feature a 14.6-megapixel CMOS sensor and 3-inch OLED screen, along with an electronic viewfinder. A viewfinder sensor will turn off the OLED screen automatically when the camera is held to the user's eye. A pop-up flash and hot shoe are included. The NX10 will offer 720p movie recording, using the H.264 codec for compression, and have an HDMI port for connecting to an HDTV. A new Samsung NX lens mount will be introduced with this camera. At a recent briefing, we learned that three lenses are currently in development: an 18-55mm and a 50-200mm, both with optical image stabilization, and a 30mm pancake The body size is 4.8 x 3.4 x 1.6 inches (122 x 86 x 41mm), the weight 12.5 oz. (354g), making it very close to the dimensions of the Micro Four Thirds format Panasonic GH1. It will come in two colors, which Samsung has dubbed Noble Black and Titan Silver.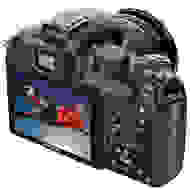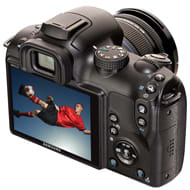 While details aren't yet available, Samsung promises "in-depth manual controls" along with a Smart Auto mode, and a "Smart Range" dynamic range expansion feature. Samsung currently promises spring availability, and is not planning to announce pricing at CES.