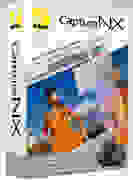 June 2, 2008 - Nikon today announced the latest generation of its popular Capture NX photo editing software: Capture NX 2. The software builds upon Capture NX, adding new features such as an Auto Retouch Brush, enhanced Shadow/Highlight adjustment, and improved speed and control. Capture NX 2 will retail for $179.95 when it is released later this month, although a free 60-day trial is available on Nikon's website starting today.
Capture NX was first introduced in summer 2006, and since then has been updated continuously with new features and additions. Aimed at professionals or serious enthusiasts, the software specializes in editing advanced RAW files, although it is also capable of editing JPEG and TIFF formats. Nikon promises easier image browsing and labeling, improved color management, and simpler and more intuitive designs and controls.
A great feature of Capture NX 2 is selection control points, which allows users to select an area to edit without tedious manual outlining or masking.
Also adding to the software's ease of use is an Auto Retouch Brush, which automatically removes dust and blemishes without altering the quality of the image. In addition, a sliding adjustment bar adds easy control for altering highlights and shadows in images.
The entire workspace for Capture NX 2 can be custom-built to fit a user's wants and needs, with hideable tool palettes and other customizable features, including a 'Favorites Folder' to access commonly-used items. Users can label images, tools, and functions to more easily track and sort their work.
Capture NX 2 also allows for the simultaneous use of tools, so users can save time when editing by, for example, enhancing color while adjusting brightness and contrast. The improved Edit List and Quick Fix menu allows users to quickly and easily access editing tools, adding functions for color moiré reduction, dust off, auto red-eye correction, vignette control and fisheye lens correction.
For more information or to download the 60-day trial, visit Nikon's website.