Cameras
Nikon Announces Inexpensive D3000, Video-Enabled D300s
July 30, 2009 – Nikon today added two new digital SLRs to its lineup. The D3000 will be the company\'s new entry-level SLR, priced at $599.95, while the D300s is nearly identical to the existing D300, with the addition of 720p video recording.
July 30, 2009 – Nikon today added two new digital SLRs to its lineup, one a replacement for the low-cost D40, the other a next-generation version of the D300 with video recording added.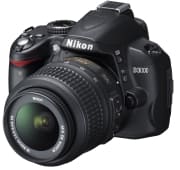 The D3000 (right) is a 10.2-megapixel model that ships with an 18-55mm VR lens (unlike the D40 kit lens, which is not image-stabilized). Another step up from the D40 is the addition of automatic image sensor dust removal. This will be the smallest SLR Nikon offers, at 5.0 x 3.8 x 2.5 inches (126 x 97 x 54mm) and 17 oz. (485g). There are several improvements over the D40, including an ISO range to Hi1 (3200), a 3-inch LCD, and a 3 frame per second burst rate (a slight boost from the D40's 2.5 fps), plus a faster processor. The D3000 employs an 11-point autofocus system and supports Nikon Picture Controls, Active D-Lighting, the Nikon Creative Lighting System and RAW file shooting. It will be priced at $599.95 with the kit lens when it ships in August.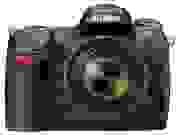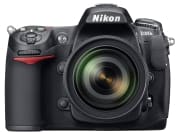 Moving up the photographic food chain we find the D300s (left), which basically adds the 720p 24fps video recording capability found on the D90 and D5000 to the existing Nikon D300. Most features remain the same between the two cameras, including 12.3-megapixel resolution, the high-res 3-inch 920,000-dot LCD and a standard ISO range from 200-3200, with a stop higher and lower available as extended settings. The D300s also inherits the 51-point autofocus system and 3D Color Matrix Metering II from its predecessor. One area where the new model has a slight edge is burst mode: Nikon claims 6fps for the D300, 7fps for the D300s.
An interesting step-up feature the D300s incorporates is dual memory card slots, one CompactFlash, the other SD/SDHC. Either can be designated as the primary storage location, with the second card used for overflow or automatic file backup in mission-critical shooting situations. It's also possible to designate one card for still images and the other for video storage, a clever idea. Active D-Lighting bracketing has also been added to the mix, along with one-button access to Live View mode.
The video mode is also familiar, with a maximum 1280 x 720 resolution at 24 fps, and a maximum clip length of 5 minutes. A welcome features is an input for an external stereo mic (the built-in mic is mono only). While the Nikon press release states that 'users can autofocus while recording video,' which could lead to confusion. Yes, you can autofocus while in video mode, but once you start recording a clip, the autofocus system does not update continuously to keep moving subjects in focus (among still cameras, only the Panasonic Lumix GH1 has mastered that important trick so far).
The Nikon D300s body will sell for $1799.95, and is scheduled for August availability. No word yet on a price drop for the D300, which currently lists at the same $1799.95.
Also introduced were two updated lenses, the AF-S DX NIKKOR 18-200mm f/3.5-5.6 ED VR II and the AF-S NIKKOR 70-200mm f/2.8G ED VR II, Both lenses have been upgraded to Nikon's Vibration Reduction II image stabilization system, which features two levels of VR performance, Normal and Active. The 70-200mm f/2.8 also gains Nano Crystal Coat to minimize lens flare and ghosting. It will sell for $2399.95 when it begins shipping in November.
The 18-200mm lens (f/3.5-5.6) is a lightweight, compact design at 19.9 ounces and 3.8 inches long. It's priced at $849.95, with a September ship date.