Cameras
Nikon Announces SB-400 Speedlight
Nikon Announces SB-400 Flash for the D40, Speedlight, SB-600, SB-800
November 16, 2006 – Along with the D40 DSLR announcement, Nikon introduced today the ultra-compact SB-400 Speedlight flash for the introductory SLR user.  The Nikon SB-400 Speedlight will retail for $129.95.
Coming out alongside the D40, the new i-TTL flash accommodates the compact design of the latest DSLR, which is called the smallest SLR in Nikon's history.  Like the D40, the new flash is lighter and easier to use than previous models, according to Nikon's press release today.
The Nikon SB-400 Speedlight is a lower-end flash system geared for beginner users.  Acting as a "simple on-camera flash," according to Nikon Senior Technical Manager Lindsay Silverman in an interview with DigitalCameraInfo.com, the SB-400 has minimal buttons with a sole on/off option.Lacking wireless slave capabilities, the flash has minimal options but may be useful for beginning users who seek a bit more control than their auto pop-up flash can offer.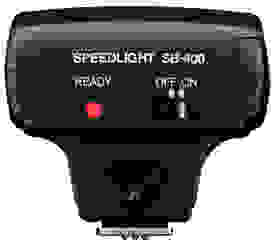 The SB-400 has a guide number of 98 feet, an extended distance of what the built-in flash can illuminate.In addition, users can bounce the flash for softer lighting over the in-camera flash's abilities. 
Entry-level SLR users are the least likely to buy a camera accessory such as a flash, according to Silverman.For customers who buy sub-$1000 SLRs, buying an additional flash can hurt the wallet.  
The Nikon SB-400, nevertheless, is the least expensive option within Nikon's flash line up, at only a fraction of the cost of previous Nikon flashes.For wireless capabilities, D40 consumers will have to look to the pricier and heavier SB-600 and SB-800 Speedlight flashes.
The Nikon SB-400 Speedlight flash is compatible with AA batteries.