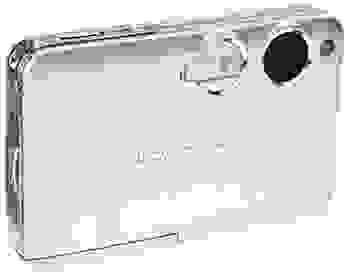 March 16, 2005 — Nikon is entering a new era with today's announcement of the Coolpix S1, the manufacturer's first slim-line digital camera. The 5.1 megapixel camera is meant for automatically inclined users with its 17 scene modes and auto assist Nikon technologies, which were introduced on Coolpix cameras at PMA. With a 3x optical zoom and a 2.5-inch LCD screen, the Nikon Coolpix S1 is extremely similar to Sony's T33. Both cameras have slim, flat bodies with comparable profiles and features.
The Nikon S1 measures 3.5 x 2.3 x 0.8 inches, which is slightly shorter than the T33's 3.9 inch length. The biggest difference between the two cameras is the price. The Sony model will sell for $450 starting this month, while the Nikon S1 will retail for a much more affordable $379.95 when it debuts in April.
Nikon included its new technologies — Face Priority AF, D-Lighting, and In-Camera Red-Eye Fix — in the skinny digital camera. The face priority function automatically detects facial features and focuses on them, so portraits always come with a focused face. The D-Lighting function automatically compensates for backlit photographs. The red-eye fix does just what it says.
A 2.5-inch LCD screen is a new size for Nikon digital cameras; however, the resolution of the screen is not. With only 110,000 pixels, the count is dwarfed by the Sony T33's 230,000. The 4.2-ounce Nikon S1 packs 12 MB of internal memory and a slot for an optional SD card. The memory card will become a necessity, as 12 MB holds only 5 pictures at full resolution.
The Nikon Coolpix S1 has a movie mode that shoots in three resolutions, but all with the same recording rate of 15 frames per second. The compact digital camera can also capture 1.8 frames per second in its continuous shooting mode.
"The new Coolpix S1 is a breakthrough for Nikon in terms of its advanced technology designed to take better pictures, easier than ever," said Bill Giordano, general manager of marketing for Nikon, Inc. Nikon made a few improvements in battery stamina, as its lithium ion battery pack can take about 200 shots before needing a recharge. While this is decent, there are more advanced compact cameras on the market that can handle more shots per charge.
The new Nikon Coolpix S1 will be available in April for $379.95 and will include a CoolStation MV-11 USB camera dock.