The new D7000 SLR will replace the D90 in the product line, and adds a number of new features, such as 16.2 megapixel image capture and a burst mode that can capture 6fps for up to 100 images. The camera uses a 16.2 megapixel APS-C sized CMOS sensor that offers ISO settings of 100 to 6400, with additional settings that go up to 25,600; significantly higher than the D90. A shutter speed of 1/8000 of a second is also available.
The D7000 also offers 39 AF points, which the company claims makes the camera more responsive. In addition, the camera uses an impressive 2106 sensors to judge exposure. Live View on the 3-inch, 921k pixel LCD screen can be activated with a single button, and video capture can also be started with one touch of a button.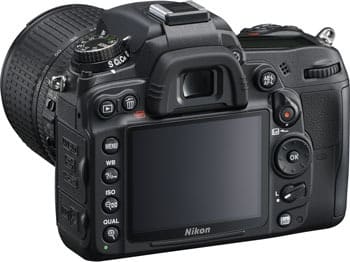 The D90 captured 720p video, but the new D7000 ups the ante to capture 1080p (1920 by 1080 pixel) video, the highest consumer HD video resolution currently available. However, it can only capture 1080p video at 24 frames a second(fps): it cannot do the 30 or 60 fps that dedicated camcorders (and some other SLRs) manage. 720p video can be recorded at 24 or 30fps, and up to 20 minutes of video can be captured at a time. Videos are saved as MPEG-4 files with stereo sound, and an external microphone input allows you to connect a better microphone if required.
Images and video are stored on SDHC or SDXC memory cards, and the D700 includes two SDHC/SDXC card slots. These can be used in a variety of ways, with the camera switching from one to the other if the first fills up, writing RAW to one and JPEG to the other or to write the same images to both simultaneously for backup purposes.
The D7000 will be available in October, priced at $1199.95 for the body only or $1499.99 for the body and an 18-105mm f/3.5-5.6G ED VR lens. This represents a departure for Nikon: previous models have been bundled with shorter, cheaper zoom lenses.