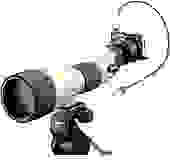 May 2, 2006 – Nikon announced the Coolpix Digiscope 8.1 Photo Package last week; it is designed to transform the P4 digital camera into a telescope capable of wildlife photography. The package includes the Nikon Coolpix P4, a Nikon 16x/24x/30x wide digiscoping eyepiece, and a Nikon Digiscope P4 digital camera adapter bracket. This package retails for $729 and does not include the actual fieldscope, which will add another $500-2,000.
The Nikon Coolpix Digiscope 8.1 Photo Package is marketed as easy to use and versatile, putting "digital photo capabilities into the hands of wildlife photographers of every level," according to the April 28th press release. The system adds a huge amount of telephoto power to the Nikon P4. With the Nikon 60 mm fieldscopes, the camera essentially has 864-3,024 mm of zoom.
This would be good news for the 8.1-megapixel Nikon Coolpix P4, which has only a small 3.5x optical zoom lens. The lens is stabilized by Nikon's Vibration Reduction system that minimizes camera shake by an estimated three shutter stops. The P4 comes with a 2.5-inch LCD screen and a suite of technology that fixes red-eye, adjusts background lighting, and automatically searches for faces within the frame. Retailing for $399, the P4 accounts for more than half the cost of the total Digiscope 8.1 system.
The Nikon wide digiscoping eyepiece's zoom rating depends upon the attached fieldscope body. If the fieldscope is 82 mm, the eyepiece uses a 30x view. The eyepiece uses a 24x view for a 60 mm body and a 16x view for a 50 mm body. The 6 oz eyepiece is connected to the fieldscope on one side and the adapter bracket on the other. The bracket includes a cable shutter release to keep the camera from getting bumped and keep pictures from getting blurred.