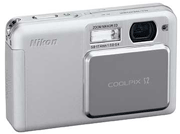 May 18, 2005 – Just two months after releasing the slender Coolpix S1, Nikon today announced the Coolpix S2, another addition to the recently unveiled Coolpix S-line of compact cameras. The slim, stylish 5.1 megapixel twin of the S1 will be on the market this spring, retailing for $449 (USD).
The Coolpix S2 offers essentially the same internal package as the Coolpix S1, released in March, with the main difference being the S2's external lens cover. Both cameras share the same 110,000 pixel 2.5-inch LCD and 3x optical zoom. The Coolpix S2 is a fraction thicker than the Coolpix S1, but still remains under an inch in depth. In its entirety, the S2 measures 3.6 x 2.3 x 0.9 inches and comes with 12 MB of internal memory.
There are 16 shooting modes available on the S2, along with a movie mode capable of recording video clips at 15 frames per second with sound. The S2 has a one second start-up time and will reach a 1.8 fps consecutive capture rate in continuous shooting mode. The aluminum body is splash-proof and weighs 5 oz empty, one ounce heavier than the older S1. The splash-proof casing will offer some added protection against the elements, although it should not be construed as a waterproof or even water-resistant.
Additionally, the S2 comes with the Cool-Station MV-12 which provides a docking station for connections to a television, PC, or printer. While docked, the camera will be able to recharge while performing these other features.
Nikon admits the "S" in the new line is all about style, hoping the trendy new camera design will open a place for Nikon within the market of compact, lifestyle cameras for a manufacturer known more for its traditional designs.
The modification of the Coolpix S2 from the Coolpix S1 seems to recall the Sony Cyber-shot DSC-T1 phenomenon: slight cosmetic alterations in style and body to the same internal camera. Nikon basically updated the S2 by moving the internal lens cover mechanism to the body's exterior. Unlike the Cyber-shot T1 which originally offered an external sliding lens cover and simplified the design, by moving the mechanism within the frame, Nikon has reverses this design choice.
The release of the Coolpix S1 and S2 is interesting from Nikon's corporate point of view. Just this week, Nikon executives admitted the camera manufacturer would be shifting away from the less profitable compact cameras and focus more on the growing market of digital SLR's. The recent release of the S2 seems to contradict this edict.

North America . According to Nikon , the Coolpix S2 will be offered overseas on June 10.