*August 7, 2008 - *Nikon today announced not only six additions to its Coolpix line, but also three technologies that are built into all the new models. While these capabilities are close cousins to features already in the marketplace from other manufacturers, they are new to Nikon. They include:
Scene Auto Selector Mode: automatically chooses from a subset of the camera's image presets based on the system's interpretation of the picture to be taken

Smile Mode: camera waits to snap a photo after the shutter is pressed until the face detection circuitry finds a smiling subject

Blink Warning: indicates immediately after a photo is taken if the subject blinked, enabling quick reshoots
All of the new models are scheduled to ship in September 2008. They include:
**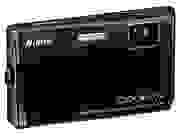 Coolpix S60 **
The literally big feature distinguishing the 10-megapixel, 5x zoom Coolpix S60 is a 3.5-inch touch-screen that takes up the entire back of the camera. Other than the shutter and power buttons, all input is entered by touching the display. This interface lets users manually center the camera's settings, including focus and exposure, on a particular subject by tapping the screen. Touch input is also used during playback mode, where users can decorate images by writing with a stylus or stamping overlays with a finger press, zoom in on an image with a finger tap and flip through photo collections by swiping a finger across the screen. Also noteworthy: a mini HDMI connection for direct output to high-definition TVs. Continuing its tradition of fanciful colors names, Nikon says the S60 will be available in "Crimson Red, Espresso Black, Arctic White, Burgundy, Champagne Pink and Platinum Bronze" for $349.95.
**Coolpix P6000 **
The new top-of-the-line model in Nikon's performance (P) series features a built-in GPS system that captures latitude and longitude as you shoot and saves the information to the image file. This geotagging data will be accessible to those browsing on Nikon's own my Picturetown online service and other services that support GPS data. While the P6000 isn't equipped with Wi-Fi, it can still connect to the Internet (and upload to my Picturetown) via a built-in Ethernet port – less convenient than wireless, perhaps, but much faster. A potentially controversial feature is the use of a new RAW format, dubbed NRW, based on Microsoft's WIC specification that was introduced with Windows Vista. So far NRW is incorporated only in the P6000, and can only be processed in-camera. Nikon promises an updated Windows-only version of ViewNX software that will handle NRW files, due in October. The 13.5-megapixel camera with 4x zoom lens will be priced at $499.95.
**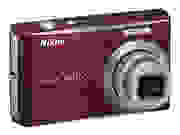 Coolpix S610 and S610c **
These twin ultraportables share most key features, including 10-megapixel resolution, optical image stabilization, a 3-inch LCD and ISO settings ranging to 3200. Where the S610c ($329.95) outshines its S610 ($279.95) sibling, though, is built-in Wi-Fi support. And while Wi-Fi in and of itself is nothing new, Nikon's agreement with the Wayport wireless service will raise eyebrows. Wayport's Wi-Fi network currently includes over 10,000 locations, most of them at McDonald's restaurants across the United States. Purchasers of the S610c will be able to log on to the Wayport network at no charge until August 2011, making the S610's one-touch uploading to my Picturetown and built-in email preparation software appealing for travelers eager to share their photos with friends and family from the road.
The S610 offers a 4x zoom lens, the S610c tops out at 3.6x. And while the S610 (shown here) is available in "Midnight Black, Deep Red and Smoke Gray," the more buttoned-down S610c will be available only in Midnight Black.
**
Coolpix S560 **
The S560 is a less flashy addition to the Nikon line, incorporating the new Smile Mode, Blink Warning and Scene Auto Selector features in a 10-megapixel camera with an optically stabilized 5x Nikkor lens. With a 2.7-inch LCD and 15 scene modes, the S560 will come in "Granite Black, Cool Blue and Cherry Blossom" when it ships in September for $249.95.
**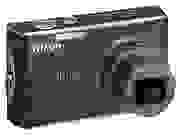 Coolpix S710 **
Nikon designates its "S" series cameras as the company's style leaders, but the stainless steel S710 it also boasts some heavy-duty specs, most notably 14.5-megapixel resolution and ISO sensitivity up to 12,800 (for 3-megapixel images; full resolution ISO tops out at 3200). There's a 3-inch LCD with 170-degree viewing angle, a 3.6x Nikkor lens and aperture-priority, shutter-priority and full manual modes. Face detection mode now supports up to 12 individuals in the frame. The S710 will ship in "Graphite Black, Deep Red and Brilliant Silver" in September, priced at $379.95.