February 21, 2006 – Nikon has expanded its 'Life' series of digital cameras today with the announcement of the Coolpix L2, L3 and L4. The affordable entry level cameras are compact, but not especially stylish or slim. The Nikon L2 has 6 megapixels, the L3 has 5.1 megapixels and the L4 has 4 megapixels. These digital cameras will be available this month. The L2 will sell for $249, the L3 for $199 and the L4 for $149.
All of the new models have 3x zoom lenses and 2-inch LCD screens, but there are some variations to the specs. The L2 and L3 have zoom lenses that boast focal lengths of 38-116 mm and a maximum aperture of f/3.2. The L4 has a slightly shorter 38-114mm lens with a wider aperture of f/2.8. The L4's macro mode focuses as close as 4 cm, while the L2 and L3 can only focus as close as 10 cm.
The Nikon L2 and L3 have 86,000 pixels on their 2-inch LCD screens and the cheaper L4 has surprisingly more resolution with 115,000 pixels. All of the monitors have a brightness adjustment for better viewing in bright light. Viewing menus on the screen should be easier as well; Nikon's 2006 camera lineup includes new menu features such as more proportional icons and a new color scheme designed to be easier on the eyes.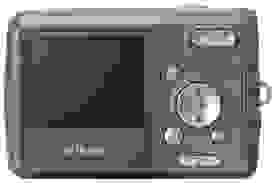 The L-series releases all have 15 scene modes, including 4 that have framing aids for beginners. All of the cameras include Nikon's face-priority technology that searches for faces and automatically focuses on them. The new cameras are also equipped with in-camera red-eye fix and D-Lighting compensation. The Nikon Coolpix L2 and L3 have movie modes that record 640 x 480, 320 x 240 and 160 x 120 pixels with sound. The L4 can also record at those image sizes, but does so without audio.
The 4 megapixel Nikon Coolpix L4 is the chubby sibling of the series with its 3.4 x 2.4 x 1.4-inch measurements. This isn't huge, but it's not as trim as the 3.6 x 2.4 x 1-inch dimensions of the L2 and L3. All of the cameras have a slight protrusion to make a comfortable hand grip. The L2 and
L3 both have 1.7 frame-per-second burst modes, but the thicker L4 is even slower – it doesn't have a burst mode at all. The Nikon L4 stocks 10 MB of internal memory and the L2 and L3 both have 23 MB of internal memory.
All offerings in the entry level L-series use AA batteries for power. The L2 gets about 180 shots from alkaline AAs, while the L3 gets 200 and the L4 gets 250. With rechargeable NiMH batteries, all of the cameras can get more than 600 shots from one charge.