Cameras
Noromis Offers PhotoLab Editing and Printing Program
Read about a new photo editing and printing software by Noromis PhotoLab.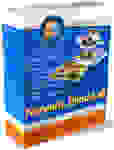 April 20, 2007 – New Jersey-based digital imaging company Noromis PhotoLab recently launched software for photo editing and printing novices. Promising lab quality prints in just a few steps, Noromis PhotoLab costs $49.95 to download or $59.95 on a CD. 
"The main difference of this product [versus other photo editing programs] is that it does everything automatically," said Noromis CEO and co-founder Mikhail Ryzhkin in an interview with DigitalCameraInfo.com. The Windows-enabled program allows the user to produce a print in four steps, according to the CEO.
"It is a major advantage for novice users," Ryzhkin said. "It's for home users like moms and pops who do not have to learn Photoshop," he added.
Although the software is geared for family photographers and point-and-shooters, Noromis PhotoLab also caters to those who are already skilled at photo editing, according to the CEO. "It is complimentary to Photoshop," said Ryzhkin, for users who want to print their images in bulk. 
The software can detect any printer and has an "intelligent layout" that provides different print size options based on the user's printers' paper type compatibility. The software also offers manual editing tools, such as exposure, saturation, and noise adjustments.
"If you can use an ATM machine, you can use our software," said President and co-founder Maurice Hamoy. Noromis PhotoLab allows users to quickly auto correct photos, with similar results to film processed in a lab, according to Hamoy. "It gives powerful analysis and auto correction that was previously only offered at one-hour labs," he said.
Most point-and-shoot cameras and printers already come with free editing or printing software, so some may wonder why they should pay $50 for another software program. An additional benefit of Noromis PhotoLab is that users of the program can get free tech support by phone, email, or instant messaging. All updates to the program will also be free to existing users, according to Hamoy.
The Noromis PhotoLab beta ran from December 2006 to February 2007, when the current version of the software was released. The next update to the software, scheduled May, reduces the printing process to two steps, according to the CEO. Visit noromis.com for more information.