January 26, 2006 – Olympus added a new digital camera today to fit between its SP-310 and SP-350 models: the 7.1 megapixel Olympus SP-320. The SP series is known for its versatility and functionality in both manual and automatic modes; the SP-320 does not stray from this ideal. With its manual, priority, scene, and movie modes, this compact digital camera has more than 30 modes with which to record. The Olympus SP-320 has a 3x zoom lens, a 2.5-inch LCD screen, and is compatible with a set of conversion lenses and an underwater housing. Set at a retail price of $299, the Olympus SP-320 will go on sale this March.
The Olympus SP-320 has some basic features geared towards new users, but includes advanced features for budding photographers, too. The simpler features include a designated print button, in-camera photo editing and a gimmicky photo frame feature. The more advanced features include manual functionality, conversion lens compatibility, ISO 64-800 selections, and ten white balance choices with a +/- 7 compensation scale. The SP-320 also has digital image stabilization. The camera has a weak burst mode that shoots 2 frames a second for a maximum of 2 frames. Still, Olympus is marketing the SP-320 to consumers who are replacing their older digital camera, or adding another one to their fleet.
"The new SP-320 digital camera offers a unique combination of power and versatility for users of all skill levels," said Michael Barnett, product manager at Olympus Imaging America Inc, in today's press release. "This full-featured camera allows advanced users to produce professional-quality results, and beginners are assured amazing images with the SP-320's convenient automatic settings."
The SP-320 fits in with its SP-series siblings with a similar ergonomic design. The camera is compact with its 3.9 x 2.6 x 1.4-inch measurements, but its chunky right-hand grip won't make it a competitor with ultra slim cameras. The body looks traditional except for its metallic charcoal black color. It has a typical 3x zoom lens, an optical viewfinder, and a 2.5-inch anti-glare LCD screen with 115,000 pixels. The lens has a focal length equivalent to 38-114 mm with a maximum aperture of f/2.8 at its widest setting. The lens is threaded to accept accessory glass.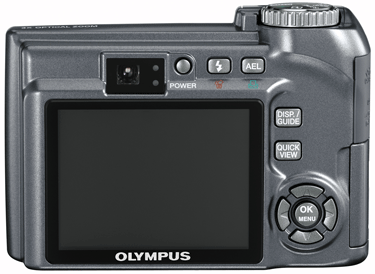 Olympus is releasing a few conversion lenses designed for the SP-320, but they are sold separately. The TCON-17F is a 1.7x telephoto lens that has a 196mm focal length and retails for $99. For the same price, the WCON-07F is also available. It has a wide 26.6mm view. These lenses can only be attached with the CLA-9 lens adaptor tube, which sells for $25. All of these accessories are available in stores immediately.
The Olympus SP-320 offers versatility, but still comes with a basic 25 MB of internal memory, xD-Picture card compatibility, and AA battery power. Pictures can easily be prepped for printing with the in-camera red-eye fix, resize function and frame and title additions, and printed with the easy print button.