Cameras
Olympus adds new cameras to Stylus and FE lines: the FE-5020, FE-4000, FE-46 and Stylus-7010
July 22, 2009 - Olympus has announced three new cameras for the low-price FE series, and one new model for the Stylus range of cameras. All four shoot 12-megapixel images, 640x480 videos, and have an autofocus tracking system. Olympus has also taken the Art Filters from its SLR line, re-branded them as 'Magic Filters' and tucked them into these point-and-shoots. The two less expensive cameras (the FE-4000 and FE-46) have pop-art, pinhole and wedding effects, and the FE-5020 and Stylus-7010 have pop-art, pinhole and fish-eye modes. The FE series cameras will be landing in September of 2009, and the Stylus-7010 will be available in August.




FE-5020: The FE-5020 has a wide-angle lens with a 5x zoom (24mm-120mm equivalent), and will be available in Wine Red (shown), Dark Gray and Royal Blue. This is the high end of the FE line, with a $159.99 price tag. The slightly higher cost gets you a wider ISO range (ISO 64-3200) and a bit more zoom.
The camera measures 3.65 x 2.2 x 0.97 inches  (92.7 mm x 55.8 mm x 24.7 mm) and weighs 3.8oz (107g) without card or battery.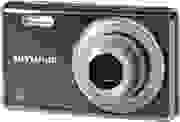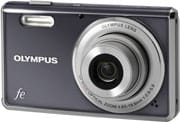 FE-4000: The slightly less expensive FE-4000 ($149.99) has a 4x zoom (26mm-105mm), with a maximum aperture of f/2.6, a surprisingly fast lens. The FE-4000 weighs in at 3.7oz (106g), and measures 2.73 x 2.24 x 0.88 inches (95.0 mm x 57.0 mm x 22.4 mm). It will be available in Dark Gray (shown here), Pearl White and Magenta.
FE-46: The least pricey of the FE models, the FE-46 costs $99.99, and uses AA batteries. It will be available in Light Blue, Light Pink, Pearl Black and Pearl White, with a 5x zoom lens (36-180mm equivalent). It offers an ISO range of 80-1600, and an aperture spread of f/3.5-f/5.6. The FE-46 measures 3.86 x 2.42 x 1.09 inches (97.98 mm x 61.59 mm x 27.8 mm), with a weight of 4.5oz (128g).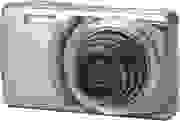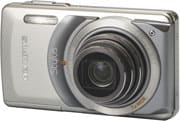 Stylus-7010: This new addition to the Stylus line packs a 7x zoom in a 3.8 x 2.2 x 1.0- inch body  (97.5mm x 55.7mm x 26.2mm). The wide-angle lens is the 35mm equivalent of 28-196mm, with an aperture range of f/3-f/5.9, which is pretty fast given the zoom ratio. The camera is loaded with little tweaking tools and options. In addition to the aforementioned Magic Filters, it has in-camera panorama stitching, a beauty mode (with the slightly terrifyingly names Clear Skin, Dramatic Eye and Sparkle Eye), and Perfect Shot mode. This last is a feature we've seen on other Olympus models, previewing four versions of the image on screen,with different settings (such as white balance) applied.
The Stylus-7010 also has optical image stabilization, and at reduced resolution (3MP) can shoot images at up to 11 frames per second. Olympus added a new button to the camera, marked OR for Olympus Recommends, which takes you to a menu with all these advanced functions. The 7010 will come in Dark Gray, Silver (shown), and Pink, with a sticker price of $199.99