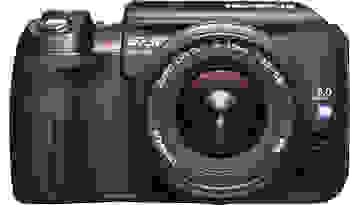 January 13, 2005 — Olympus and Matsushita, also known as Panasonic in the United States, signed an agreement today to jointly develop a Four Thirds System standard for digital SLRs. The two companies hope to develop camera bodies, interchangeable lenses, technologies, and accessories to grab up their share of the growing digital SLR market. In the agreement, Olympus will bring their SLR technology to the table and couple it with Panasonic's advanced digital AV electronics and technology.
The two companies are agreeing to co-develop the technology pertaining to digital SLR cameras, but will individually build the products to maintain competition, innovation, and branding. The two companies also agree to use the Four Thirds System, which uses a large four thirds-type imaging sensor that allows for a wider range of compact and long lenses. The system benefits consumers by increasing image quality and allowing compatibility between manufacturers. Currently, the following manufacturers adhere to the system: Fuji, Kodak, Olympus, Panasonic, Sanyo, and Sigma.
Olympus has already released cameras that use the technology; both the Olympus E-1 and the Olympus E-300 utilize the Four Thirds System standard. The signing of this deal will be the first step for Panasonic to enter the digital SLR market. Up until now, they have only manufactured compact and point-and-shoot digital cameras. The two companies will be competing with Canon and Nikon, the two biggest sellers of digital SLR cameras. But if market predictions are correct, the digital SLR market will more than quadruple by 2007, allowing room for manufacturers like Olympus and Panasonic to elbow their way in.