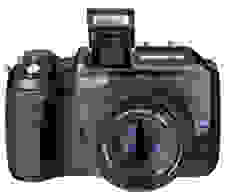 November 23, 2004 — Olympus officially announced today the retail price of the EVOLT E-300 Digital SLR, along with additional lenses and accessories. Consumers will be able to own the EVOLT E-300 with a Zuiko Digital Specific 14-45mm lens for $999.99. This places the ergonomic SLR into the emerging group of compact, user-friendly SLRs that can be found for under $1,000.
The EVOLT E-300 is marketed by Olympus as the first completely digital SLR system for consumers. The digital element is emphasized to alter the perception of interchangeable lens systems designed for compatibility with existing analogue lenses. Increased distinction would favor the EVOLT E-300's "first 100% digital system," as many major manufacturers bank on the analogue-digital lens compatibility as a primary marketing tool to appeal to those users with a prior investment in their lens systems.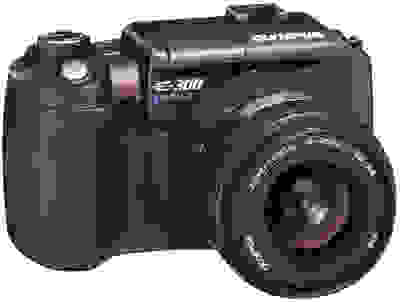 Digital specific lenses are designed to refract light strait back to the digital sensor, regardless of the direction or location of the light source. Light entering a 35mm camera does not have to be as precisely refracted because three-dimensional silver halide crystals on a film plane are sensitive to light from any direction. Since this is not the case with a digital sensor, digital lenses have to transmit light in a strait line back to the sensor. While some digital sensors can record images refracted by analogue lenses, the exactitude will not always parallel digital quality. This is one reason why Canon, a leading lens manufacturer recently began marketing their fully digital EF-S digital lens series.
The EVOLT-E-300 also features a Supersonic Wave Filter, originally instated in the professional Olympus E-1. This system is designed to remove dust and stray particles from the surface of the sensor by emitting ultra-sonic vibrations 350,000 times per second. The dust removal feature is automatically activated when the camera is turned on, however, it can also be manually engaged within the selection menu.
When purchased independently of the EVOLT E-300, the camera's 14-45mm (28-90mm equivalent) f/3.5-f/5.6 Zuiko Digital Specific lens will sell for $249.95. Olympus also announced their 40-150mm (80-300mm equivalency) f/3.5-f/4.5 Zuiko Digital Specific Lens will retail for $279.95. These lenses, along with the EVOLT E-300 are expected for retail availability in December.