January 26, 2006 – Olympus announced a new round of Stylus digital cameras today with the introduction of the 810, 710 and 720 SW. The digital cameras all have 3x zoom lenses, 2.5-inch LCD screens, and various amounts of internal memory. Each camera also comes equipped with a built-in help guide, a designated print button, and in-camera editing features like red-eye fix. The Stylus 810 and 710 are all-weather and designed to be splash-proof. The 720 SW has an even more rugged metal body and is designed to withstand a drop from 5 feet and water to depths of 10 feet.
All of these new releases have digital image stabilization, which is fast becoming a popular feature. The Stylus cameras use an internal gyro sensor to detect horizontal and vertical movement, then use algorithms to correct it. The digital cameras also have built-in help guides that have options like "Brightening Subject," which leads users to exposure compensation and flash settings. This tutorial setup is geared toward beginners and users new to the Olympus system. As with all Olympus Stylus models, the new cameras are compatible with xD-Picture cards.
The Olympus Stylus 7.1 megapixel 720 SW has very slim measurements of 3.6 x 2.3 x 0.8 inches and a non-extending 3x zoom lens. The camera body is finished in a traditional silver color, but its durability is anything but traditional. The camera's circuit board floats within the body for better shock absorption. The waterproof 720 SW is also sealed with rubber O-rings for protection from the water. The Olympus Stylus 720 SW is designed for an active audience that takes their camera skiing, diving, sailing, and everywhere in between. The 720 is also meant to be seen everywhere: it has a 2.5-inch LCD screen with Olympus' Bright Capture technology, which uses information from nine pixels on the CCD to produce one pixel on the LCD screen. This technology is included on the 810 and 710 models as well.
The Stylus 720 SW comes with 29 shooting modes, 4 of which are underwater scene modes. The camera offers sensitivities up to ISO 2500 in certain scene modes so that users can shoot in natural lighting – even if it's dim. The camera has an impressive 3.7 fps burst mode, made possible by the camera's TruePic Turbo image processor. All of the newly released Stylus digital cameras are equipped with this processor, as well as some internal memory. The Olympus 720 SW has 19.1 MB to its credit. The shock-proof and waterproof digital camera will be available in March for $399.
The Olympus Stylus 810 and 710 aren't designed for underwater photography or a drop from a backpack, but still have rubber seals for splash-proof designs. The 810 has 8 megapixels and 23 shooting modes. Some of the 20 scene modes use ISO sensitivities up to 3200, but the manual choices range from 64-1600. There is an ISO 3200 manual option, but it only works if the image size is 2.6 megapixels or less. The Stylus 810 has a somewhat impressive burst mode at 4.2 fps, but once again, the image size must be smaller – this time at 5 megapixels.
Olympus is expecting great things from the 810: "The inclusion of premium features such as Bright Capture Technology and digital image stabilization, along with a large 2.5-inch LCD and 8-megapixel image sensor, makes the Stylus 810 one of the most powerful, feature-rich point-and-shoot cameras available," said Tomoko Matsunaga, product manager at Olympus Imaging America Inc, in today's press release.
With measurements of 3.8 x 2.2 x 0.9 inches, the Stylus 810's 2.5-inch LCD screen is quite large. Better yet, it has 230,000 pixels of resolution. Its body also has a built-in flash unit that is more powerful than most compact flashes. It can reach up to 17.1 feet, while most trim models only cover about 10-12 feet. The 810 has a movie mode that shoots three sizes at 30 fps. With 28.4 MB of internal memory, consumers will probably have to purchase xD media to really take advantage of the camera. The Olympus Stylus 810 will begin selling in stores in March for $429.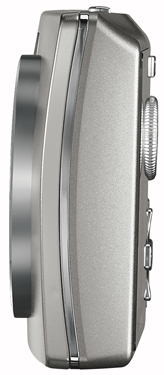 The new Olympus Stylus 710 packs in 7.1 megapixels on its 1/2.3-inch CCD and crams it in its 3.7 x 2.2 x 0.8-inch frame. The 710 will compete in the ultra-slim camera market with its 28 shooting modes, including 24 scene modes. Basic modes like Portrait are listed on the camera, but more unique modes such as Auction are also incorporated. The Olympus 710 has a movie mode that can shoot in three image sizes like the 810, but it does so at a slower 15 fps rate. This slim camera is relatively speedy. It has a 3.7 fps burst mode and starts up in less than a second. The 710 also has a 2.5-inch LCD screen, but it has half the resolution of the one on the 810. The Olympus Stylus 710 will sell for $349 in February.
"Stylus cameras are renowned throughout the world for their all-weather durability and stylish, classic design," said Matsunaga in today's press release. "The Stylus 710 builds upon this reputation with the addition of a 7.1-megapixel image sensor, premium features such as Bright Capture Technology, enhanced usability and a sleek new body design."