Cameras
Olympus Intros Upscale SLR
Olympus today announced a new SLR model, the E-30, a 12.3-megapixel camera selling for $1299 (body only).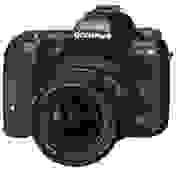 November 4, 2008 – Olympus today announced a new SLR model, the E-30, a 12.3-megapixel camera selling for $1299 (body only). The E-30 offers the features that have become standard in the Olympus line-up – Live View support, in-camera image stabilization and dust reduction technology in a Four Thirds format package – and adds a selection of built-in filters for artistic effects, multiple exposure capability and a digital leveler function that displays camera tilt information, both front to back and side to side.
On price, the E-30 fits in the considerable gap between the company's consumer-oriented, 10-megapixel E-520 ($650 with lens) and the professional E-3, a $1700 camera with 10.1-megapixel resolution. In a spec-for-spec rundown, the E-30 appears to meet or exceed the E-3. Both cameras offer an 11-point auto focus system and a top burst rate of 5 frames per second. In addition to a higher resolution, the E-30 provides a larger LCD screen (2.7 inches versus 2.5 for the E-3); the screens on both cameras are mounted on flexible brackets that pivot horizontally and vertically. In size and weight, the E-30 is inconsequentially smaller, at 5.57 x 4.23 x 2.95 inches (141.5 x 107.5 x 75 mm), but substantially lighter, with a body weighing 23.1 oz. (655 g) versus 28.8 oz. (810g) for the E-3. The E-3 is built like a pro model, with a magnesium alloy body and robust weather sealing, where the E-30 is made of plastic, like most consumer SLRs. Any analysis of image quality will, of course, have to wait until the new camera ships.
Based on press materials distributed by Olympus, the marquee feature appears to be six Art Filters that 'conveniently help transform a basic image that faithfully represents the scene into an image that carries emotional impact.' There are six filters in all, to be used while shooting rather than applied after the fact. They include:
Pop Art: boosted saturation to 'express the joyful, lighthearted feeling of the Pop Art style of the 1960s'

Soft Focus: 'renders subjects in a heavenly light without obscuring details'

Pale & Light Color: produces pastel colors and 'flat gentle light' to create an effect 'reminiscent of a flashback scene in a movie'

Light Tone: 'Renders shade and highlight areas softly to lend an elegant air to the subject'

Grainy Film: Grain effect in monochrome that 'evokes the feeling of documentary footage'

Pin Hole: Vignettes the outer edges, 'connecting the viewer intimately with the subject at the center of the picture'
Also provided for the artistically inclined is a multiple exposure function that combines up to four images (RAW or JPEG), with control over positioning and density of individual elements.
In addition to the Art Filters, Olympus provides 16 image presets to tackle more plebian challenges, such as fireworks, sunsets and portrait photography.
The Digital Level Sensor is an interesting feature that detects camera pitch and roll, providing visual feedback in the optical viewfinder, the control panel and the Live View display. Also unusual is the range of aspect ratios available, nine in all, including the typical 4:3, 3:2 and 6:9 and extending into 6:6, 5:4, 7:6, 6:5, 7:5 and 3:4.
The E-30 will shoot RAW files and JPEGs in a wide variety of sizes and compression settings. Shutter speeds range from 60 seconds to 1/8000 second, ISO settings from 100-3200. Exposure compensation is available to ±5 EV, in 1/3, 1/2 and 1 EV increments. The E-30 has a built-in flash, with a guide number of 13 at ISO100, and can also control up to 3 groups of flashes wirelessly.
Along with the new camera body, Olympus announced the compatible ZUIKO Digital 14-54mm f/2.8-3.5 II lens (equivalent to a 28-108mm in 35mm photography). Both camera and lens are slated for shipment in January 2009.