Cameras
Olympus Launches Crushproof and Freeze-proof Stylus 770SW
Olympus Launches Crushproof and Freeze-proof Stylus 770SW, manometer, Super Macro LED mode, shockproof, waterproof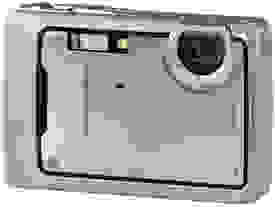 *January 25, 2007* – Adding to their line of SW cameras, Olympus announced today its shockproof, waterproof, and now freeze-proof and crushproof Stylus 770SW. Geared for active travelers and adventurers, the point-and-shoot camera can survive a 5ft. fall, 33ft. underwater submergence, temperatures as low as 14°F, and a weight of 220lbs., according to an Olympus press release today. The Stylus 770SW, armed with a new built-in altitude reader, Super Macro LED mode, and LCD brightness button will come at a retail price of $379.99 when it debuts in March.
The Olympus Stylus 770SW is their "toughest digital camera in the Stylus series," according to the release. With added capabilities, the Stylus 770SW improves upon the shockproof and waterproof Stylus 720SW, the first Olympus SW introduced last year.
Like the previous model, the 770SW carries a 7.1-megapixel sensor, a 3x optical zoom lens, a TruePic Turbo image processor, Digital Image Stabilization, and Bright Capture technology. The new 770SW comes in a stainless steel body with rubber seals to absorb shock and a floating circuit board to resist internal damage. Like its predecessor, the 770SW can also withstand a 5ft. drop.
As a JIS Class 8 camera, the Olympus 770SW has improved underwater capabilities over the 720SW, with a higher submergence depth of up to 33ft. For users who want to reach the depths of the ocean, Olympus offers an optional PT-035 underwater housing case for up to 130ft. of underwater submergence.
The camera also adds a new built-in manometer that measures depth and altitude. For activities such as scuba diving or rock climbing, users can record the depth or altitude of each photo taken. With 27 total scene modes, the camera includes 4 dedicated underwater shooting modes and a movie mode of 640x480 pixel resolution at 15fps. For underwater photography, the 770SW has a new water-repellent lens coating, resisting water drops on the lens to preserve clean images.
The 770SW also adds freeze-proof capabilities, with the ability to withstand sub-freezing temperatures, according to the release.
The camera also adds the superhero title of "crushproof" to its name. With the ability to withstand up to 220lbs. of weight, the camera is designed to be protected for air travel or against a person sitting down on your camera.
In addition, the Olympus 770SW sports a new LED Illuminator that acts as a mini-flashlight for close-up shots. When set to Super Macro LED mode, the camera can properly set auto focus, according to the release.
The camera comes with a 2.5-inch, 230,000 pixel HyperCrystal LCD monitor that allows for 140 degree angled viewing. The 770SW also possesses a new LCD Backlight Boost button that allows users to boost monitor brightness in underwater situations or in direct sunlight.
The PictBridge and DPOF-compatible camera has built-in editing functions including red-eye correction, resizing, brightness adjustment, and text and border choices. The camera is compatible with xD memory cards and accepts Li-ion batteries.
"It's the perfect camera for adventure seekers who want to snap shots while scuba diving, skiing, and even while traveling in a plane," stated the release.