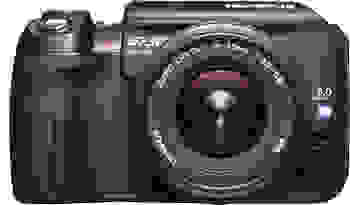 January 27, 2005- Olympus Imaging Australia is raising its expectations this year. The company hopes to see their digital SLR market double in 2005, bringing in an estimated $100 million (USD). Olympus hopes to expand its E-series of cameras, which currently consists of the E-1 and E-300. Olympus DSLR Product Manager, Austin Kazami, said he expects "several" new digital SLRs and at least seven more compatible lenses to be released in 2005.
The company expects to sell 100,000 digital SLR units in 2005. This may seem like a lofty figure, but the digital SLR market is forecasted to more than quadruple by 2007, and with recent sales of the Olympus E-300, the future looks bright. This model was the second best selling digital SLR in Japan in December 2004.
Aimed toward the prosumer market, the Olympus E-300 uses the Four Thirds system with its compatible Zuiko lenses. Olympus and Panasonic signed an agreement earlier this month to combine digital SLR technologies, and committed to using the Four Thirds standard for its lenses.
Olympus' Zuiko lenses are marketed as being specifically designed for digital cameras. Nine of these lenses are on the market right now and another seven slated for 2005 are sure to make E-series-users smile.
Olympusdigital SLR cameras are known for their Supersonic Wave Filter feature, which reduces the amount of dust that builds up on the imaging processor. This is a smart feature considering that most digital SLRs acquire dust from the constant changing of lenses. Olympus is banking on its lenses, dust filter technology, and durability among other features, to propel them to the top of the digital SLR market.